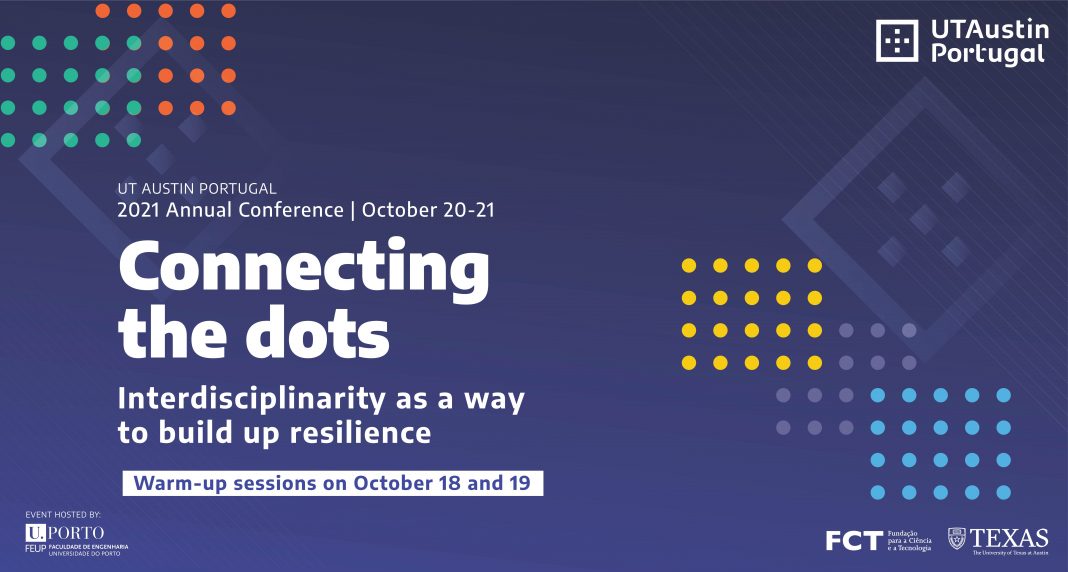 SAVE THE DATE – October 20-21, 2021, Porto
Warm-up sessions on the 18th and 19th
Our community's largest event is in sight with another thought-provoking theme to engage you from the very first moment!
This year, the UT Austin Portugal's Annual Conference convokes its community and beyond to discuss, from different angles, the place of scientific interdisciplinarity towards reinforced collective resilience in times of crisis and uncertainty. Throughout two half-days, the event will feature renowned experts from and outside of our transatlantic community to look into interdisciplinary research as the way forward to capacity building for enhanced resilience at different levels. 
Committed to raising the bar once more, the Program will introduce new discussion formats in tandem with successful formulas used in previous editions, namely Masterclasses – this time around covering the full range of the Program's areas. For the first time ever, our Conference will also accommodate a fireside chat, a center stage session that will allow our community to interact with an outstanding guest, and two roundtables structured around Nanotechnology and Health.
In preparation for the Annual Conference, two exclusive warm-up sessions on R&D Commercialization and Science Communication with thought leaders from UT Austin and Portugal will give participants a grasp of the Program's commitment to delivering a unique knowledge-sharing event.
(Notwithstanding the downward trend of the pandemic in Portugal, the event will be staged in a hybrid format, with in-person attendance being limited. Closer to the event, should circumstances permit, such restrictions might be eased or lifted).