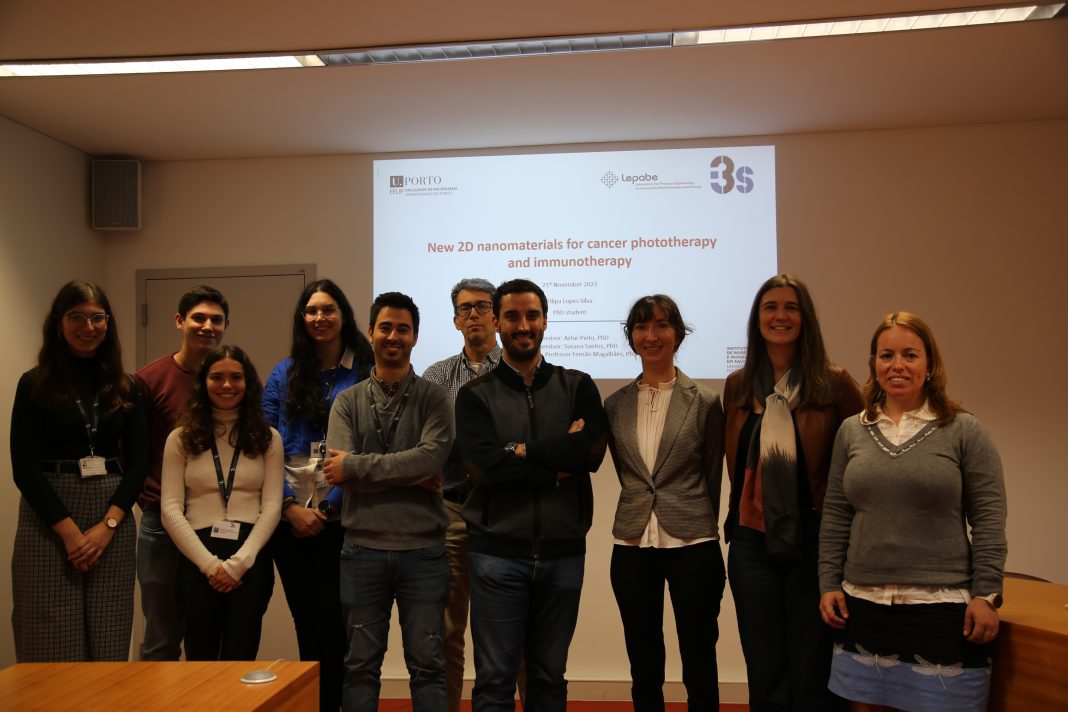 Thanks to the Cooperation Profiles for Faculty Matchmaking initiative promoted by the Program back in 2021, Artur Pinto (Research Fellow at the Laboratory for Process Engineering, Environment, Biotechnology and Energy [LEPABE] – Faculty of Engineering of the University of Porto [FEUP]) and Jean Anne Incorvia (Assistant Professor at the University of Texas at Austin) met and teamed up to prepare a joint proposal for the 2021 Exploratory Research Projects Call. The 2D-Therapy Project was eventually awarded around 100K euros to tackle one of the world's leading causes of death: cancer. How? The project explores the radiation absorbance properties of different nanomaterials, such as graphene – the elemental component of graphite, which we can find in our pencils – to kill cancer cells using light and heat while trying to maintain healthy cells alive – something that is not possible with some of the cancer treatment options available today.
Our team got to talk with Artur Pinto and Jean Anne Incorvia, the two masterminds behind 2D-Therapy, on the occasion of Jean Anne's visit to Porto last November.
A visit full of opportunities for present and future collaborations
Our morning of November 21 started at 10 a.m. when we arrived at the Institute for Research and Innovation in Health (i3S) after a short walk from UT Austin Portugal's headquarters to meet the research team of the 2D-Therapy project. For the first time ever since the start of the project, the Portuguese team, bringing together researchers from LEPABE-FEUP and i3S, met in person with the project's Principal Investigator (PI) at UT Austin's Cockrell School of Engineering. We got to join them through their morning activities and learn more about the project and their most relevant results to date.
We entered the atrium to find Artur Pinto, the PI from Portugal, and Jean Anne Incorvia, from UT Austin, who was shortly visiting Portugal after weeks of international conferences. Maria Oliveira and Susana Santos, project partners affiliated with i3S, and some Master's and PhD students of the research team in Portugal, came along shortly afterwards.
For two hours, we followed the group through several i3S research facilities, which were carefully introduced to Jean Anne. We started by visiting the proteomics facility and met Hugo Osório, the Platform Head. The lab equipment quantifies and characterizes proteins that can be used to describe, for example, diseases and cells. Afterwards, we were taken into a small room, the bioimaging facility; only the blue and green images of cancer cells on the computer screen broke the darkness that filled up the room. We learned about all the imaging techniques and microscopes that i3S has and how they can be used to study the cancer cells that 2D-therapy plans to destroy.
Each new room we visited had unique characteristics and complex technologies. For example, in the big BioScience Screening facility room, the technician António Pombinho excitedly explained the intricacies of their most recent cell analyzer, which can recognize patterns and distinguish between living and dead cells. That can be crucial for the 2D-Therapy project to understand if phototherapy attacks cancer cells while maintaining healthy cells. The cell culture facility, the last visit stop, offered us a unique experience. It is in this small room, with strict measures to ensure the safety of the cells and avoid bacterial contamination, that all experiments with cells start. How? With a scientist willing to patiently grow the cells and make them multiply to be used for the most diverse experiments. The i3S PhD student Filipa Silva showcased some cell samples in the project's context. The cells were in small wells filled with a bright pink liquid that provided the nutrients for them to live.
Jean Anne and our team were amazed by how much potential all these facilities have to bring new ideas to light and how useful they may be for present and future collaborations. All throughout the visit, Jean Anne and Artur Pinto exchanged ideas and experiences of how these resources could be applied to their project. Although Jean Anne's background is in physics and her expertise is in nanomaterials for computing, these experiences open a new window of possibilities to get her out of her comfort zone and develop breakthrough ideas, she told us.
Reflecting on this year's achievements and goals
After visiting i3S, we headed to the Faculty of Engineering of the University of Porto (FEUP), where LEPABE is located, and we met Artur's co-PI, Fernão Magalhães, Associate Professor at FEUP at LEPABE, we had a practical demonstration regarding 2DnMat production and properties evaluation, regarding maximizing their anti-cancer phototherapy potential.
After that, PhD and MSc students involved in the project presented the state of their ongoing work. Finally, we talked further with Jean Anne and i3S researchers Maria Oliveira and Susana Santos, who told us how this project could be game-changing for cancer treatment.
"Teamwork makes the dream work": get to know Maria Oliveira and Susana Santos, collaborators on this project.
Although the project is still a few months from completion and the research team could not disclose their results, there is a deep feeling that 2-D Therapy can pave the way for a new approach to cancer treatment and management. The team wishes to continue the research work they have been developing after the end of the project in February 2023, with new projects arising and new partners joining in to bring in insightful expertise and help results move into higher Technology Readiness Levels.