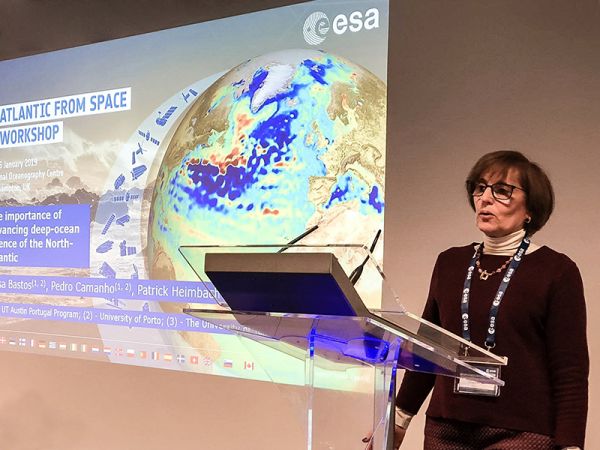 Area director presents paper at thematic workshop, within the scope of the UT Austin Portugal Program's strategic area Space-Earth Interactions.
In January this year, Luísa Bastos, area director for Space-Earth Interactions in the UT Austin Portugal Program and Principal Investigator at the Faculty of Sciences of the University of Porto, participated in the "Atlantic from Space" workshop, organized by the European Space Agency (ESA), to make a presentation on a highly promising emerging topic.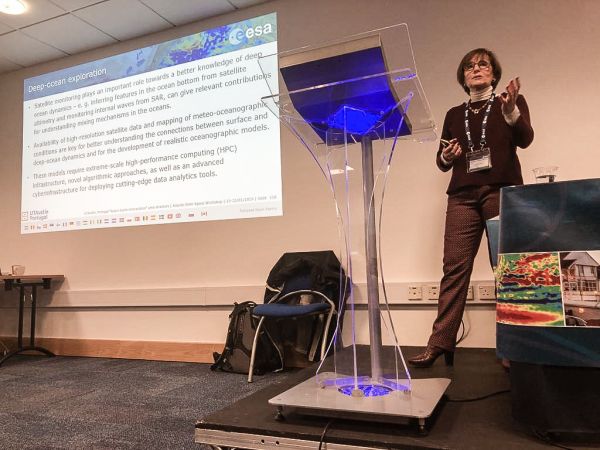 "Discussing the importance of advanced deep-ocean science of the North-Atlantic" was co-written by Luísa Bastos and fellow area directors Pedro Camanho (Portugal) and Patrick Heimback (UT Austin), and proposes an improved understanding of deep-ocean studies, mainly on the context of climate change, pollution and seabed mining.
The presentation focused on highlighting the need to support deep-ocean exploration through long term monitoring at higher spatial and temporal scales, suggesting contributions from the Space sector to leverage new developments towards a deeper understanding of the dynamics of the Atlantic Region. Also in focus was its relevance for the maintenance of the Good Environmental Status and for the sustained exploration of this oceanic area, whilst promoting UT Austin Portugal Program's strategic approach to the Space area research.
Aligned with UT Austin Portugal Program's research agenda for the third phase, the workshop was "an excellent opportunity to learn about the latest developments in the field of Remote Sensing of the oceans, as well as the main priorities for the future towards a deeper understanding of the dynamics of the Atlantic region, considering its different aspects (from physics to biogeochemistry and from coastal to deep-ocean), which is essential to guarantee the protection of the marine environment and the sustainable exploitation of its living and non-living resources, including marine energy", told us Luísa Bastos.
Additionally, "outcomes from this workshop showed that the priorities defined for the Space area, within the UT Austin Portugal Program's framework, are in line with the future research directions that were discussed and proposed."
The workshop took place on the National Oceanography Centre (NOC), at Southampton (UK), between January 23-25, and was organised by the ESA, with the support of NOC and FCT.
The full abstract book of the event is available for download here. Presentations will also be available at the conference website.