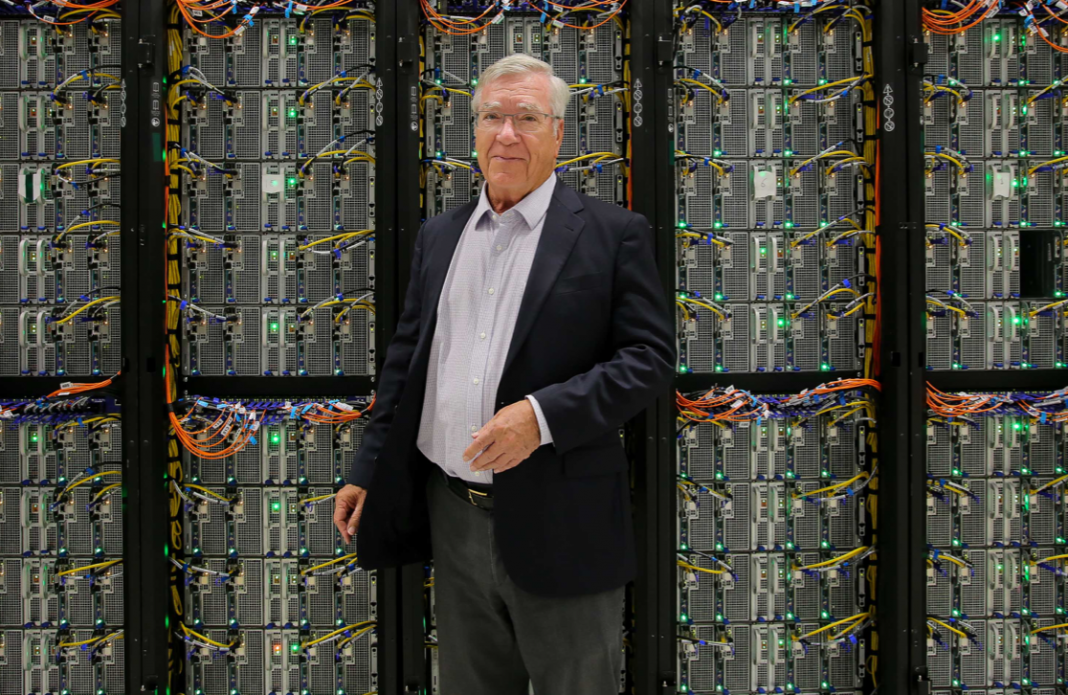 The UT Austin Professor and former Principal Investigator of phases one and two of the Program, visited the super machine BOB, at the Minho Advanced Computing Centre (MACC).
On 19 September, prior to attending the 2019 Annual Conference of the UT Austin Portugal Program, Robert A. Peterson visited MACC, at Riba de Ave, where the supercomputer BOB is installed.
Named after Robert A. Peterson, Associate Dean for Research in the McCombs School of Business at The University of Texas at Austin (UT Austin) and originator of the idea to bring the supercomputer to Portugal, BOB is an advanced computing Stampede 1 infrastructure, provided to the Portuguese Science and Technology Foundation (FCT) by the Texas Advanced Computing Center (TACC), within the framework of the UT Austin Portugal Program. The tribute was a result of Robert Peterson's commitment and efforts towards the Portuguese scientific community.
Accompanying Robert Peterson was the leadership of the UT Austin Portugal Program in Portugal and UT Austin (José Manuel Mendonça, National Director; Rui Oliveira, National Co-Director; John Ekerdt, Principal Investigator at Austin), and a delegation from UT Austin and Portugal, including Dan Stanzione, Executive Director of TACC, Nuno Feixa Rodrigues, Member of the Board of Directors of FCT, and António Cunha, former Rector of the University of Minho (UMinho) and President of DTX – Digital Transformation Lab of UMinho.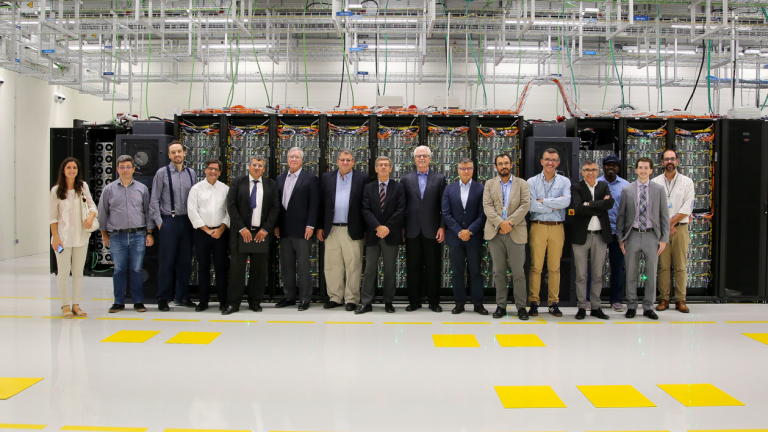 With BOB, which, to a great extent, has been decisive to also bring Deucalion (one of 8 European supercomputer) to Portugal, MACC will enable numerous advantages when it comes to digital processing of information and is expected to create great opportunities for Portuguese scientists and companies, thus helping the development, creation and design of new products and solutions.
The supercomputer is installed in the REN Data Center, at Riba de Ave, being managed by REN and NOS, and will support the activities of MACC and of FCT, which will also manage the infrastructure in partnership with UMinho. MACC is expected to be fully operational in early 2020.
MACC will soon display a tribute plaque, which was handed in person to Robert Peterson by the Minister for Science, Technology and Higher Education, Manuel Heitor, at the 2019 Annual Conference of the UT Austin Portugal Program. The plaque reads, at the end:
"The supercomputer has been designated BOB in appreciation to Professor Robert A. Peterson for his leadership of the UT Austin Portugal Program between 2007 and 2017 and vision to foster global research and innovation communities."