The Fundação para a Ciência e a Tecnologia, I.P. (FCT) announces its 2022 Call for Exploratory Research Projects (ERPs) under the UT Austin Portugal Program.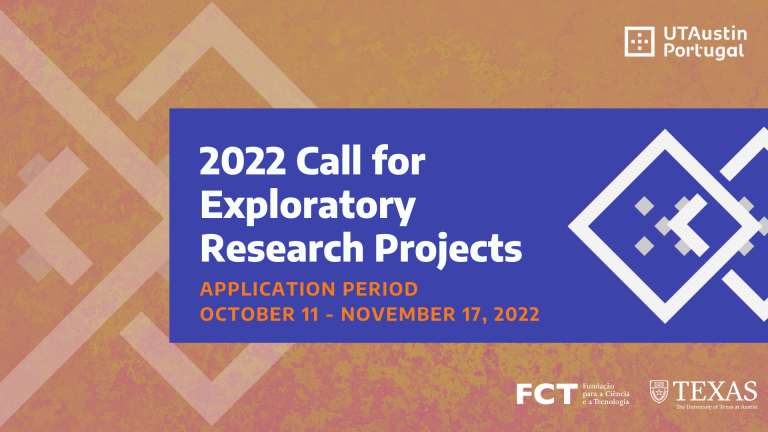 The ERP Call is designed to assist teams of researchers from non-corporate entities of the National Scientific and Technology System and The University of Texas at Austin (UT Austin) by bootstrapping high-impact potential research activities across the scientific areas of the UT Austin Portugal Program and lined up with national and international R&D agendas of strategic relevance. Non-academic partners are entitled to participate in proposals under this Call but are not eligible for funding.
Please note that the information provided throughout this page does not exempt you from reading the official announcement and related documentation, available on the sponsor's website.
Deadline
Submissions between October 11 and November 17, 2022
Deadline for submission until 5 p.m. (Lisbon time).
What type of research projects are we looking for?
Submitted projects must aim at stimulating and promoting Portugal's competitiveness and innovation capacity in Science and Technology (S&T) in the scientific areas addressed by the present call.
Proposals must configure groundbreaking, high-risk/high-reward projects and show promise and strategy for significant expansion of the project's goals after the end of this funding cycle. Additionally, they should be able to present potential solutions to real-world problems.
Research Areas
Submitted proposals should fit in, at least, one of the following areas:
Advanced Computing;
Medical Physics for Emerging Cancer Therapies;
Nano Materials for New Markets;
Space-Earth Interactions.
For detailed information regarding the topics covered by each research area, please refer to the Call's Terms of Reference, available for download on this web page.
Applicants are strongly encouraged to get an overview of the eligible topics in order to pick the core area that best aligns with their proposal. Proposals wrongly assigned by their proponents to a scientific area may end up being assessed by evaluators whose expertise does not relate to the topics addressed by such proposals.
What Portuguese entities are eligible to apply?
The Portuguese entities eligible to receive funding through the present call are:
Higher Education Institutions, their institutes and R&D units;
State or International Laboratories with head office in Portugal;
Non-profit private institutions whose main objective is R&D activities;
Other non-profit private and public institutions developing or participating in scientific research activities.
Participating researchers at UT Austin will be funded by the UT Austin counterpart of the Program.
What are the criteria for consortium composition?
Submitted proposals must include:
One or more Portuguese entities with eligibility status (as identified above);
At least, one partner at UT Austin (or at UT MD Anderson Cancer Center in the area of Medical Physics, if applicable). In the area of Advanced Computing, full-time senior researchers from the Texas Advanced Computing Center (TACC) may also lead projects.
Consortia are allowed to bring on board other public or private entities, profit or non-profit, which may also invest in the exploratory projects and are expected to add relevant competencies to their work plans. However, such entities are not eligible for funding under this Call.
Available Budget
The total funding available will be up to € 400,000 for Portuguese research institutions and an awarded project may be granted up to €50,000 to fund research work conducted by the Portuguese team.
The participating researchers at UT Austin will be funded by the budget of the Program at UT Austin, up to a maximum of $50,000 (fifty-thousand dollars) per project. As such, the funding available through this Call is only destined for eligible Portuguese entities. UT Austin will ensure matched funding for its research teams.
The Program is expected to support, at least, 8 exploratory research projects through this Call.
Duration
The maximum duration of a project is 12 months, extendable for a maximum of 3 months, upon formal request, in duly justified cases.