EoI submission period from April 27 until June 13 (23:59 UTC+1), 2022
Internships at The University of Texas at Austin between September 15 and December 31, 2022
The UT Austin Portugal Program will be receiving Expressions of Interest (EoIs) from faculty, researchers, or Master's and PhD students affiliated with a Higher Education Institution, R&D centre or an R&D-performing company established in Portugal, who wish to spend two to three months in 2022 at UT Austin to undertake R&D activities in one of the areas of the Program:
Applicants admitted to the scheme will benefit from an immersive experience in UT Austin's ecosystem to explore and develop institutional/faculty/departmental-level collaborations, engage in interdisciplinary and collaborative research with scientific peers and acquire and transfer new knowledge.
In Medical Physics, internships may also be organized at the UT MD Anderson Cancer Center (MDACC). However, effective approval of these internships is pending staff availability at MDACC to host interns under the present Call.
Financial assistance will be guaranteed to admitted applicants in accordance with the funding criteria and limits set out in the Call Announcement.
To submit an EoI and be eligible for a research internship at UT Austin, download and read the Call's official documentation:
Indicative Timetable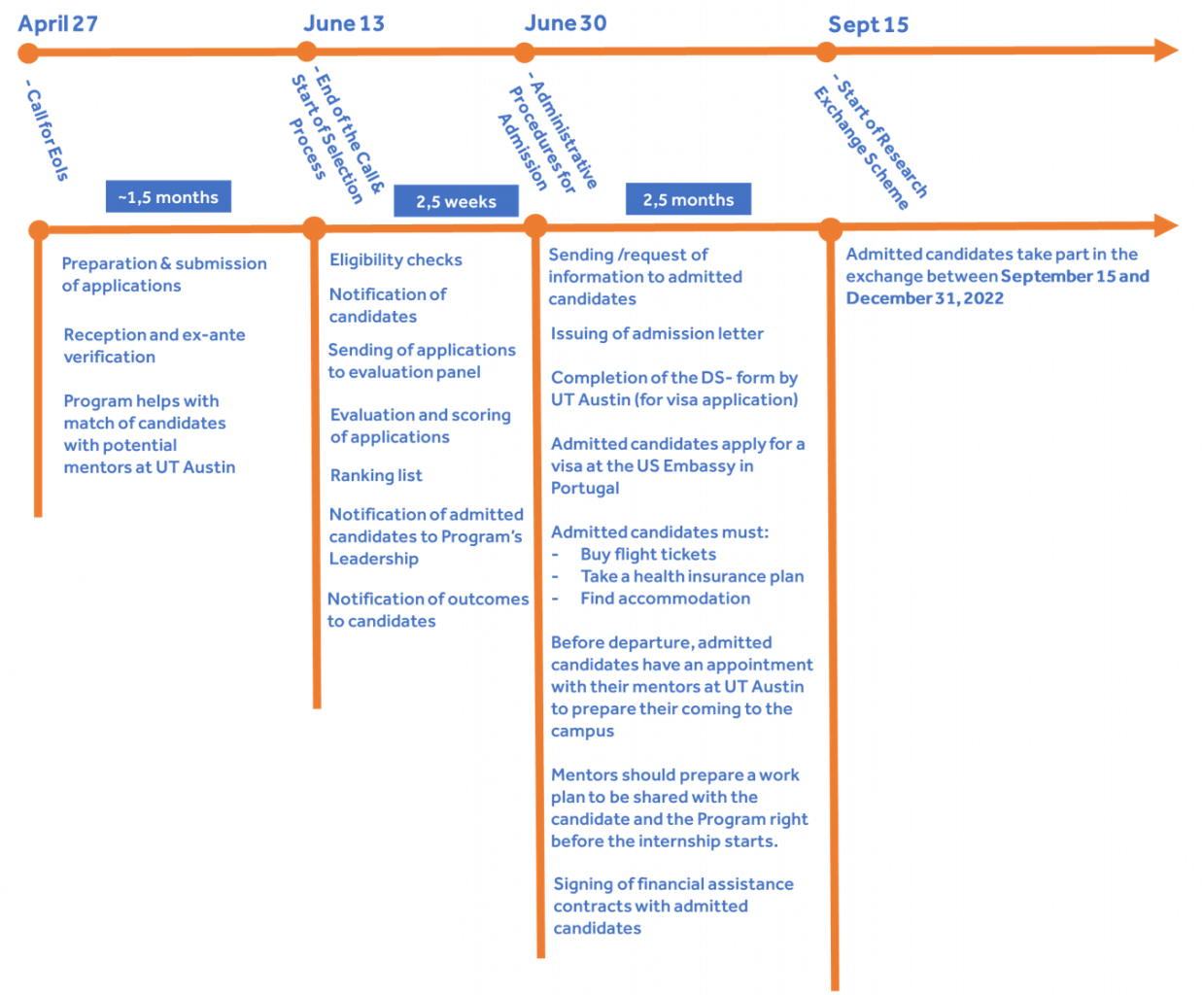 Information for Potential Hosts at UT Austin
If you are a UT Austin faculty/researcher and receptive to hosting an intern from Portugal under this Call, contact the Program at info@utaustinportugal.org. The Program will consider your profile when supporting applicants searching for potential hosts at UT Austin.

Frequently Asked Questions
For an overview of this mobility program and its application process, read our FAQs.
Contacts
For general enquiries on the Call and EoI Submission:
For liaison with potential hosts at UT Austin:
Additional Information for Potential Applicants
For detailed information on U.S Immigration Rules, Covid-19 Travel Guidance and Living in Austin: