The UT Austin Portugal Program invites researchers / practitioners to submit proposals for posters to be displayed at this year's Conference on October 8, 2020, at CEiiA, Matosinhos, under the topic of Innovation at the Intersection of Academia and Industry.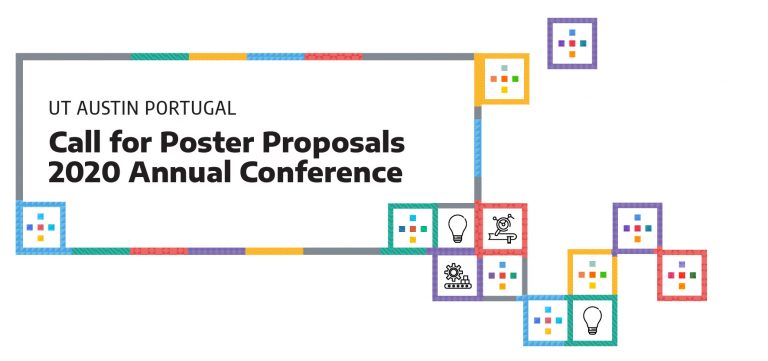 Poster Proposal Submission
Scope of this call:
Proposed posters must highlight research results or research in progress in at least one of the five knowledge areas of the UT Austin Portugal Program.
Considering this year's Conference underlying theme – Innovation at the Intersection of Academia and Industry – we are looking in particular for joint works between academia and industry and research projects aiming at solving critical problems of a given industry or application sector.
Knowledge Areas:
– Advanced Computing
– Nanotechnologies
– Medical Physics
– Space-Earth Interactions
– Technology Innovation and Entrepreneurship
How to submit a Poster Proposal:
A one-page proposal in a Word document (reference font size: Times New Roman; minimum font-size: 11 points) should be sent to events@utaustinportugal.org with the subject "Poster proposal – UTA PT Conference" and must necessarily include the following information in English:
Name, affiliation and short bio of the presenter;
Title of the Poster;
Core Area (pick one of the Program's five Knowledge Areas);
Summary of the scientific content of the poster (only plain text with no images or graphics). Mandatory topics to be covered: background (problem/ need/ opportunity); methodology; (expected) results; (expected) impact of the research work;
Other authors (if applicable).
Please note that at the proposal submission stage, applicants must not send any version of their posters.
Proposal Evaluation
Proposals will be evaluated after July 27 and authors will be notified about the outcome by email between August 2 and August 5, 2020.
Selected authors are required to send by email and by September 25, the definitive version of their A0 posters (file format: .pdf) for validation to events@utaustinportugal.org. The e-mail subject must be "PDF Poster – UTA PT Conference – Proposal ID", i.e., the ID which has been provided by the Conference organizers to the author(s) upon reception of proposal).
Guidelines for creating a Poster
All posters must be A0 (841×1189 mm) with portrait orientation. Authors must use the Program's design template for posters, which will be made available here after the submission period.
Posters should be divided into sections that allow viewers to quickly understand the background (problem/ need / opportunity), the methodology, the results, the impact and / or conclusions of the highlighted research work in few words.
All posters must be produced in English and identify the authors.
Authors will be responsible for printing and bringing their posters on the day of the Conference. The Conference staff will help authors place and remove the posters.
Nevertheless, detailed instructions about these procedures will be sent by email to the selected authors closer to the date of the Conference.
Registration
Presenters whose proposals have been selected will be automatically registered for the Poster Exhibition and Networking Lunch but not for the Conference.
Presenters and authors wishing to attend the Conference, i.e., the Keynote Speeches and one of the Masterclasses, must register here.
Posters will be displayed for the duration of the Conference, but the Poster Exhibition will take place during lunchtime. Presenters are required to stand next to their posters during this period to explain their work and answer questions.
Key Dates
Call for Poster Proposals: June 15 – July 27
Conference Registration: June 15 – September 30
Selection of Posters: July 28 – August 2
Notification of Proposers: August 3 – August 5
Deadline for submission of final version of Posters (.pdf): September 25
Conference: October 7 – October 8
Important Note
If you wish to apply for the Call for Poster Proposals with one R&DI project in co-promotion, within the scope of the UT Austin Portugal Program's 2019 Call, please contact the Program's executive team as different guidelines apply.