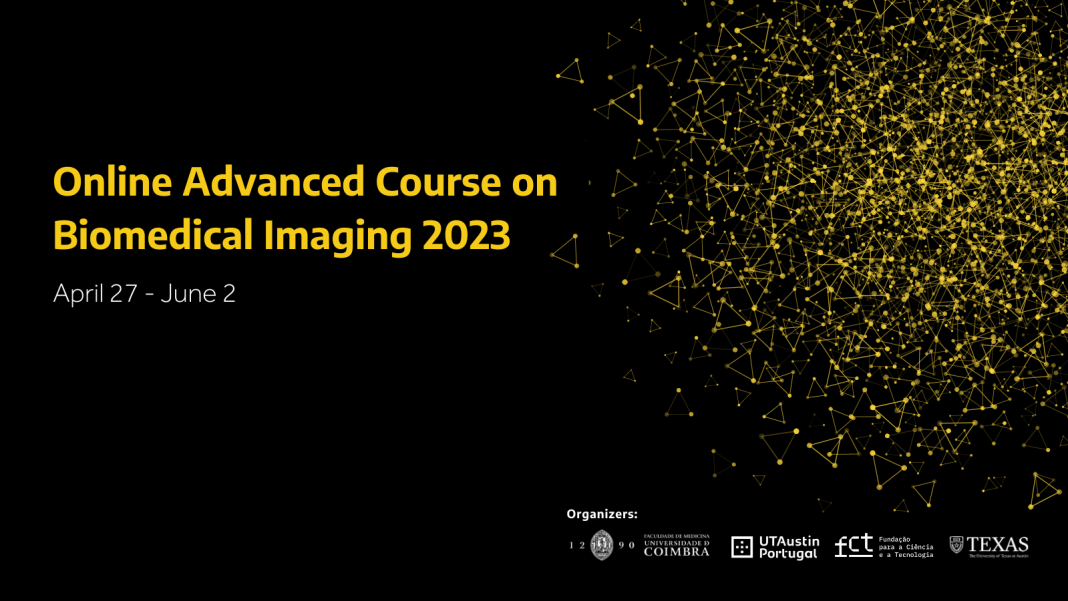 The Online Advanced Course on Biomedical Imaging is back with 12 sessions spread over Thursdays and Fridays between April 27 and June 2, directed to students, researchers and professionals from the Healthcare field. Registrations are open from March 28th to April 21st.
Little did we know that, after the invention of X-rays at the end of the 19th century, medical imaging would revolutionize the way professionals can detect injuries and diagnose disorders in such a precise and, in most cases, non-invasive way. We came a long way in the past 120 years as evidenced by the multiple imaging techniques available both for human and animals, but there is still a large room for improvements and breakthroughs. This attracts several professionals, researchers and students that want to be a part of this journey.
After a successful first edition in 2022, the Online Advanced Course on Biomedical Imaging, organized in a collaboration between the Faculty of Medicine of the University of Coimbra (FMUC) and the UT Austin Portugal Program, returns in 2023 to give students, researchers and professionals in the healthcare field (undergraduate or graduate students, health professionals, biomedical engineers, physical engineers, physicists, researchers, physicians, nurses and technicians in medical imaging and radiotherapy) the possibility to learn to learn about state-of-the-art research, clinical applications and future research directions in this area.
Magnetic resonance imaging, Positron emission tomography (PET) or even artificial intelligence and data extraction in biomedical images, will be some of the topics covered by a panel of national and international speakers, some of them debuting in this second edition of the course.
This edition also features a number of international seminars with experts from the University of Texas MD Anderson Cancer Center, UT Austin Dell Medical School and the German Cancer Research Center. Invited experts will delve into some of the most relevant research trends on PET, Artificial Intelligence and Data Science, and Proton Therapy. The last seminar will also showcase exploratory and industry-led research projects in Medical Physics funded through the UT Austin Portugal Program.
Similar to last year, this course can guarantee 10 ECTS, issued by FMUC, subject to full attendance and an exam. To be eligible for these credits, you must be a postgraduate and register directly at the University of Coimbra once you have registered through the UT Austin Portugal form and been admitted to the online sessions.
Registrations are open until April 21st. All information, as well as the criteria to request ECTS, can be consulted here.
Sessions from the last year's course are available on UT Austin Portugal's Youtube channel, where you can start to "warm up" for this upcoming edition.