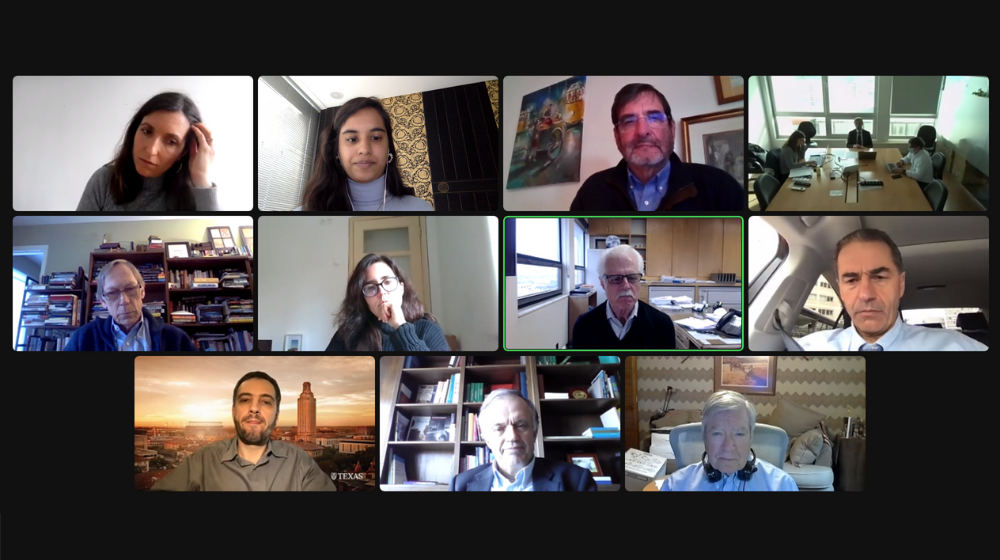 The UT Austin Portugal Program organized its 2022 Governing Board (GB) Meeting on February 23, and counted on the Portuguese Minister for Science, Technology and Higher Education Manuel Heitor to highlight potentially relevant directions for the Program in the future, capitalizing on its legacy.
Minister Heitor's presence at the meeting was an opportunity to underline the importance of the Program's research areas, which have been producing science-based knowledge to tackle major societal concerns from climate change to cancer diseases or industrial competitiveness, just to list a few.
With the Program approaching the end of Phase 3, Minister Heitor invited the GB and the Leadership to think about how the International Partnership could go on making a difference in the years to come, building on its present and past achievements. This recognition of the Program's importance in creating and building up a vibrant scientific and innovation ecosystem in Portugal with an international standing was also brought to attention by Dr Peter Arzberger, Chair of the Program's External Review Committee. Dr Arzberger stressed the Program's maturity, which very much reflects the Leadership's pursuit of continuous improvement.
In a retrospective of 2021, the following accomplishments were singled out by the Leadership: the progress of the Program's research strand, with clusters of science-based knowledge emerging and settling around application markets and intersecting initiatives of strategic interest, at national and international levels; the organization of several advanced training activities, mainly in an online setting; the increasing perception, through tangible evidence, of the impact of the Program's activities since its onset, and the production of more engaging communication content to raise awareness of the Program's footprint in society.
Energized by these accomplishments, the Leadership presented to the GB members its proposal for the 2022 Activity Plan, which was unanimously approved. In the year the Program celebrates 15 years, the transatlantic community can certainly expect more education, networking and research opportunities, including a new round of funding for Exploratory Research Projects.
The Governing Board is chaired by the Vice-President of the Portuguese Foundation of Science and Technology (FCT), José Paulo Esperança, and additionally composed of Robert A. Peterson, representing the University of Texas at Austin, José Manuel Mendonça, on behalf of the Portuguese Universities, Célia Reis, CEO of Capgemini Portugal and António Vidigal (former CEO of EDP Inovação), both representing the Industrial Advisory Board.
Completing the panel of attendees was Manuel Heitor, the Portuguese Minister for Science, Technology and Higher Education, Peter Arzberger, Chair of the Program's External Review Committee, John Ekerdt, Principal Investigator of the Program, Rui Oliveira, Co-Director of the Program in Portugal, Marco Bravo and Andreia Passos, both Executive Directors, respectively at UT Austin and in Portugal, Ana Reis from FCT's International Partnerships and Sheila Habib, the Program's International Relations Officer (PT Office).