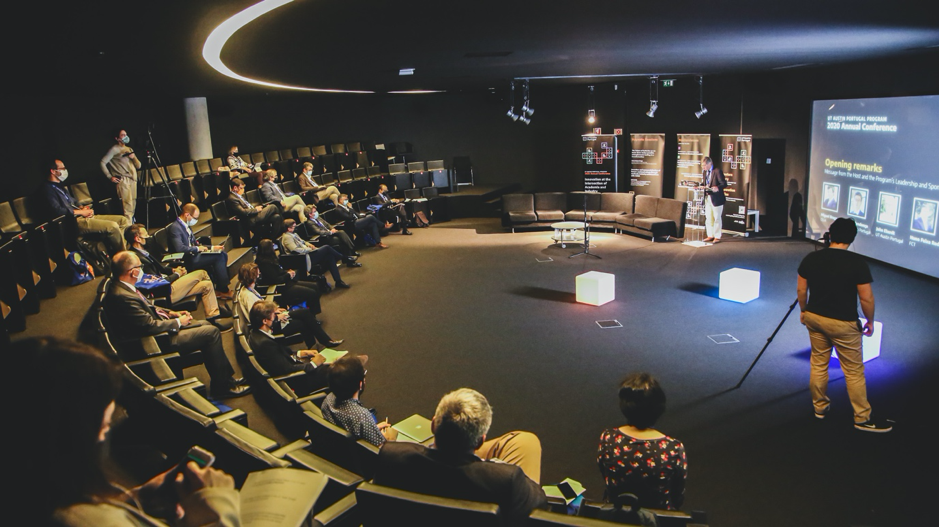 The UT Austin Portugal Program's 2020 Annual Conference, this year under the theme "Innovation at the Intersection of Academia and Industry", took place in a hybrid format, with over 100 participants watching the event online, between October 7 and 8.
Combining a live program at CEiiA, the Centre of Engineering and Product Development in Portugal, and an online schedule of four masterclasses, this year's edition featured 15 distinguished speakers to discuss science-based innovation in the frame of academia-industry collaborations.
Sustainable energy and humanoid robots: what's next?
On October 7, the conference's audience had the opportunity to listen to two specialized keynote speakers, who shared their views on the future of sustainable energy storage devices, on one hand, and humanoid robots and its innovative applications, on the other.
On the ferroelectric glass-electrolyte, Maria Helena Braga believes "it can be a way to use energy storage cells in the future".
Maria Helena Braga, Head of Department and Associate Professor of the Engineering Physics Department at the Faculty of Engineering of the University of Porto (Portugal), gave a lesson on "The future of batteries as we know them today: possible entanglements leading to a transformation". Having worked alongside the 2019 Chemistry Nobel John Goodenough, she designed many battery architectures and storage devices, until she understood that there are no step-increase changes in the technology behind lithium-batteries. From then on, looking for a more sustainable option, she has been dedicating her research to the ferroelectric glass-electrolyte, a safer, eco-friendlier and less expensive solution, believing that it "can be a way to use energy storage cells in the future"
Dedicated to make robots strong participants in today's economy, Luis Sentis still stresses the importance of human capital. "We don't want to employ robots without using the human".
"In a hypothetical future, robots could be strong participants in our economy". This was one of the statements made by Luis Sentis on his presentation, entitled "Invention and commercialization of human-centered robots through academic-industry collaborations with NASA". Working as an Associate Professor of the Department of Aerospace Engineering at UT Austin, he claimed that, although robots can be used across multiple areas and for many purposes, "the human capital is the number one priority". In addition, his research has been partly funded by NASA, resulting in the development of the space agency's Valkyrie humanoid-robot and its software for movement coordination. as Additionally, as a founding member of Apptronik Systems, a company focused on human-centered robotic products and R&D in human-augmentation exoskeletons and humanoids, Luis Sentis advocated the work surrounding sustainable and human interactive machines and robotics systems in any way that increases productivity, security and health.
Learning from international experts
Building on the success of last year's Annual Conference Masterclasses, the Program held not two, but four Masterclasses. These thematic sessions took place in a digital setting during the second day of the conference and had been put together by the Program's Area Directors in close collaboration with a panel of world-class speakers from Portugal, UT Austin and beyond.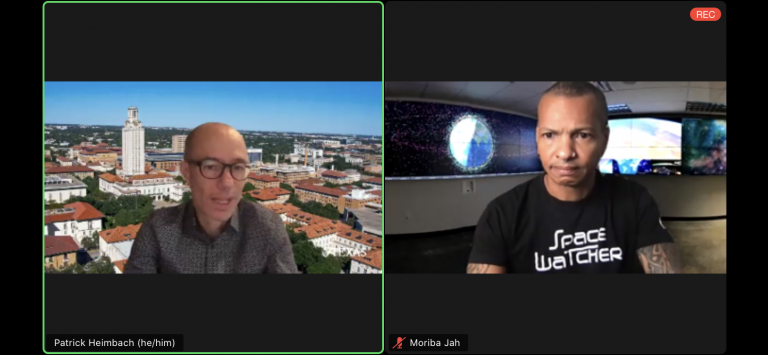 They offered over 170 participants the opportunity to learn from invited experts about emerging topics ranging from multifunctional bioinspired materials to earth observation and monitoring, challenges and opportunities of proton therapy in cancer treatments and HPC applications.
Networking as a way to foster innovation
Fulfilling another purpose of this conference, which was to promote networking activities that could leverage the formation of international research partnerships, an online catalogue with cooperation profiles submitted by registered attendees wishing to find potential partners among the audience was made available on the Program's website. Close to 50 profiles were published and 70 potential matches identified.
The event' agenda also included an E-Poster Gallery with 28 posters, highlighting either research results or newly funded ventures in the areas of the Program, complemented with chat rooms dedicated to foster engagement and discussion between participants.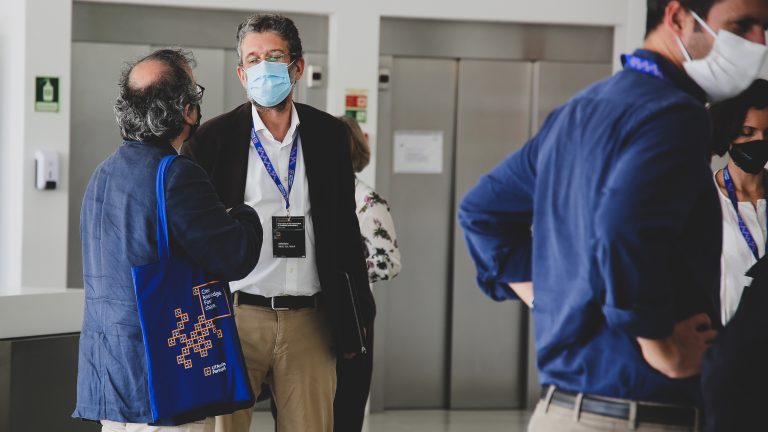 Projects "engaged in making it happen"
The Annual Conference also served as an opportunity to showcase, at first hand, a promotional video introducing the 11 new industry-driven R&DI projects, supported by the Program through goPORTUGAL – Global Science and Technology Partnership Portugal.
The Minister for Science, Technology and Higher Education considers the UT Austin Portugal Program as a "key initiative in Portugal".  
Representing a financial commitment of €21,9M, "these projects can be very important in the efforts to recover our economy", stated Manuel Heitor, the Portuguese Minister for Science, Technology and Higher Education. In his closing speech, Manuel Heitor highlighted the UT Austin Portugal as a "key initiative in Portugal, engaged in making it happen, in doing more, feeding new ideas, and new researchers and, in particular, trying to foster new frontiers of knowledge, always through  an open and collaborative platform".
"A Program that addresses the greatest problems of our world"
José Manuel Mendonça, UT Austin Portugal's National Director, also emphasized the purpose of the international partnership and its relevance in addressing social challenges with economic impact, promoting applied science and turning it into value.
Nuno Feixa Rodrigues, representing the Portuguese Foundation for Science and Technology (FCT), also praised the Program's work since its inception, calling it "absolutely astonishing". Besides the sheer economic value, "it is also a Program that actually addresses the greatest problems of our world", he added.
"It is always a great pleasure for CEiiA to host events with the relevance of the UT Austin Portugal's Annual Conference", summed Luis Miguel Braga, Head of Aeronautics & Defense at CEiiA.  "The Program is definitely a striking example of a very successful international cooperation in Science and Technology", he concluded.
See the full photo gallery here.