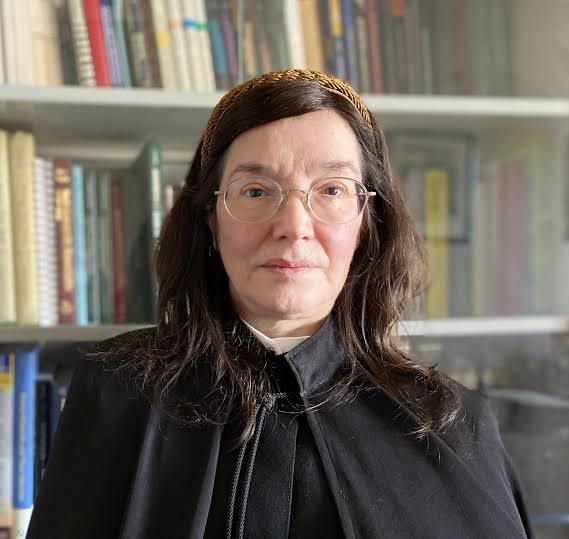 Maria Filomena Botelho wanted to graduate in Medicine for as long as she can remember, without the thought of not being a doctor ever crossing her mind. Maria Filomena Botelho preferred Internal Medicine, and while working as a junior doctor at the hospital, she started to contact with research at the clinical level. While waiting for specialty's entrance tests, a research faculty position opened up and she applied. Needless to say, Maria Filomena got the job, thus starting a great career as a researcher, where she managed to combine one of her other passions: Physics.
Now, as a Group Leader working on developing new diagnoses, treatments and theragnostic solutions for different medical conditions, as a Professor in Medical Biophysics, Biomedical Imaging and Radiobiology, and as a Scientific Coordinator of Training Courses such as the Online Advanced Course on Biomedical Imaging, Maria Filomena Botelho inspires many generations of students and researchers. Last year, she joined our community as the Medical Physics' Area Director, giving her input on the role the Program plays in this Area. You can learn more about Maria Filomena Botelho's story below.
Your academic training is in Medicine, having a degree and a PhD in the area. Was this an aspiration you acquired early on? What inspired you to pursue this field? 
Medicine has been, for as long as I can remember, something that has always been on my mind. I can't explain why! However, I always felt comfortable in that field and never thought about alternatives. What inspired me? I can't really identify.
After graduating, were you expecting to practice medicine as a medical professional? When did research start to become a possibility? 
Yes, I can say that my area of interest was internal medicine. When I was taking the course, there was no incentive to do research. However, when I started working at the hospital as a junior doctor, I chose to stay in Internal Medicine (my preference) and there I started to have contact with research, but at the clinical level. Circumstances explain many things. In my case, and at that time, the tests for entering the specialities were very late, and we had to wait for years. In the meantime, a faculty position opened up, and I applied for it. And I got in! And I've stayed until today.
Your research work combines Medicine and Physics. When did your interest in Physics sparkle? Was there something in particular that motivated you to combine these two fields?
If medicine was my all-time choice, when I started high school, physics became my passion. However, it never crossed my mind to not be a doctor. The position that opened up in medical school, which I applied for, allowed me to put things together.  And that's why I agreed to leave clinical practice and enter such a fundamental area.
You are a Modelling in Oncobiology Group Leader at the Coimbra Institute for Clinical and Biomedical Research. Can you explain more about the research your team conducts and the impact it can have on people with cancer? 
The group is a multidisciplinary team whose main research aims to develop new diagnoses, treatments and theragnostic solutions for different medical conditions, with a strong focus on cancer.
The Institute's location in an ecosystem especially dedicated to health research with emphasis on the university hospital is an asset that fosters clinical translation. In this context, research and teaching are connected in a synergy of knowledge and skills that allows us to answer relevant clinical questions from all medical fields.
Our group develops basic and clinical research, in a truly translational concept, with three main research areas: biophysics, oncology and biomaterials. Specifically, the goals of the group are (1) to take advantage of ionizing and non-ionizing radiation biological effects for the improvement of diagnosis, treatment and theragnostic, (2) to develop innovative treatment strategies based on novel compounds, biomaterials, and drug combinations and (3) to understand the response to treatment through translational man-lab-men models. Our research emphasizes the targeted radionuclide therapy, cold atmospheric plasma, photodynamic therapy (PDT), the human amniotic membrane, biomaterials, and new synthesized cytotoxic compounds that will, in the long term, contribute to the improvement of treatment and translation to the clinics.
We stand out the combination of computational models (simulations, bioinformatics, and mathematical), in vitro (cell and tissue cultures), in vivo (animal models), ex vivo (organs/tissues), and clinical studies supported by diverse cellular and molecular techniques, nuclear medicine, and imaging among others.
The group's extensive and diversified skills allowed relevant contributions to Evidence-Based and Precision Medicine with strong clinical repercussions.
What are the challenges of directing the Biophysics Institute? 
Managing such a large and diverse number of people with very different interests and making them work together is a challenge, for sure. But, despite being a challenge, it is also highly rewarding.
You teach Undergraduate and Postgraduates about fields such as Medical Biophysics, Biomedical Imaging and Radiobiology. You are also the Scientific Coordinator of the Online Advanced Course on Biomedical Imaging, a joint collaboration between the Faculty of Medicine of the University of Coimbra and the UT Austin Portugal Program. What is the most rewarding thing about teaching and sharing knowledge with the next generations? 
Being in permanent contact with people who want to learn, besides being a challenge, forces us to be constantly updated. I must add that seeing people grow not only in knowledge but also on a personal level is highly rewarding.
As a Woman in Science, what advice would you give to younger girls wanting to pursue a STEM career? 
Show them that it's the ideal background for developing new ideas, doing research, and solving the problems put by the ideas and research. In other words, considering our students, it is the ideal background for their areas of interest.
What are your opinions on the future of Medical Physics in Portugal? Are there any major challenges you think will get the most attention from the Medical Physics community in the next decades?
Proton therapy is definitely going to be challenging. I think two areas will also pose important challenges: one has to do with Boron Neutron Capture Therapy; the other will be radiobiology/radioprotection.