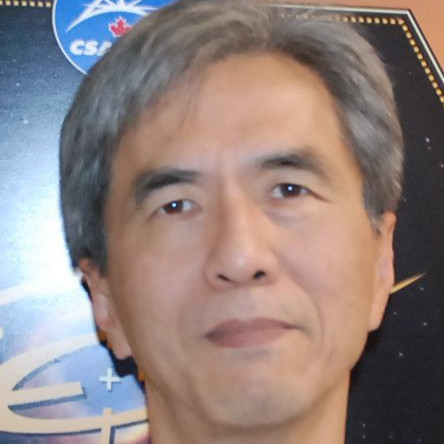 Alfred Ng was an undergraduate student in Mechanical Engineering when he felt amazed by the complexity of Canadarm1, the first series of robotic arms used at the Space Shuttle to capture, deploy and maneuver payloads in 1991.
Since then, he has pursued an astonishing career as a spacecraft engineer at the Canadian Space Agency, where he currently works as the Deputy Director in the Engineering & Capability Demonstration Directorate, leading projects such as the Canadian CubeSat Project.
At the UT Austin Portugal Program, Alfred is a member of the External Review Committee, a governing body accountable for evaluating the Program and making recommendations to help it stick to its vision and mission and meet the highest scientific standards. Read more about Alfred Ng's story and his views on the next decade of Space Exploration.
You have been working in space technology since 1992. Has working in this field always been a dream for you? When did you decide to embark on a journey to be a spacecraft engineer?
The first flight of Canadarm1 happened in 1981, and I was an undergraduate student in Mechanical Engineering at the University of British Columbia. I was fascinated by the dynamics and control aspects of such a complex robotic system. I felt an urge to pursue a career in the space field. When I discussed my career dream with the department advisor, he encouraged me to pursue postgraduate studies in spacecraft dynamics and control. He was confident that would be the path leading me to become a spacecraft engineer. He was right when I was offered the opportunity to work at the Canadian Space Agency (CSA).
You are Deputy Director in the Engineering & Capability Demonstration Directorate of the Canadian Space Agency. Can you tell our readers what your responsibilities are? 
Right now, I have responsibilities in two major portfolios. The first one is acting as a Technical Lead for Canadian CubeSat Project (CCP). In 2018, CSA selected 15 teams from post-secondary institutes from coast to coast, supporting them in designing, building, launching and operating 2U or 3U CubeSats. I work with a team of engineers to provide guidance to these teams ensuring their CubeSats are ready to launch once completed. The second part of my responsibility is, again working with a team of engineers, in managing the CSA/CNES collaboration on stratospheric balloons. Here, the two space agencies work together to provide balloon flight opportunities for Canadian and European scientists and engineers to test out new instruments or to carry out scientific observations from stratospheric balloons.
What are your expectations about Space Exploration over the next decade? Are we turning to Space to learn more about our planet? Or are we turning to Space because humankind's existence on Earth is compromised?
Behind the amazing images released recently by James Webb Space Telescope (JWST) team is the close collaboration of the best brains from Europe, the US and Canada. I believe JWST will stimulate more international collaboration in Space Exploration leading to more amazing discoveries in the next decade. Since the dawn of civilization, mankind has been curious about Space. When we learned to launch objects into space, we learned that satellites could be such a powerful platform to do observations, carry out measurements, and collect data. For me, these are the primary motivations to go to space. Of course, we also learn that space-based observation provides further evidence that the Earth system is fragile, and we all have the responsibility to act now to save the future.
History has shown us that Space Exploration has been a topic of competition between nations. I'm thinking of the Cold War; the Space race was often used as a political instrument to demonstrate a nation's strength and pride. Has the nature of space exploration changed since then? Is it steering towards more international cooperation? 
It is true that the space race remains a political tool, and it will not disappear in the near future. However, as I said earlier, it is my sincere belief that JWST will steer us towards more international cooperation.
You have been a member of the UT Austin Portugal Program External Review Committee since 2019. What are your views on the Program and how it can stimulate international cooperation through the initiatives it supports? 
When I was first invited to join the ERC, I came with a curious mind. I want to learn how other country implements international collaboration and what kind of impact it can generate. UT Austin Portugal is a unique collaboration model based on academia-government-academia. Basically, the two academia provide the seeds, and the government provides the nutrients to stimulate germination and growth. In my opinion, it works, and it succeeds because of the inherent strength of academia – they provide the best seeds.
Portugal is an Emerging Space Nation (ESN). What do you think are the country's greatest strengths – existing or potential – in the New Space Economy?
I admit that I don't have in-depth knowledge of Portugal's post-secondary school system. Still, outside the UT Austin Portugal program, I also have a few Portuguese friends in academia. I also had the opportunity to meet some Portuguese students in the past few years. Based on my encounters, I dare to say that there is no competency gap between Portuguese students and those from other countries. That is the greatest strength the country can depend on as it moves into New Space Economy.