TEKEVER is a Portuguese business group, created in 2001, whose activity focuses on developing technology, products and services in the areas of Information and Communication Technologies, Aeronautics, Space, Defense and Security.
The company joined the UT Austin Portugal Program in Phase 3 as part of the International Partnership's Industry Affiliates body, which is committed to contributing towards an increased alignment between research and industry agendas in favor of a more vibrant innovation ecosystem.
Tekever celebrates this year its 20th anniversary. We struck up a flash conversation with its CEO, Ricardo Mendes, to learn about the company's journey and ambition.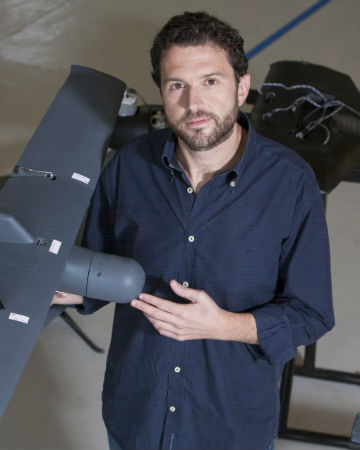 | | |
| --- | --- |
| Name | Ricardo Mendes |
| Organization | TEKEVER |
| Role in the organization | CEO |
| Business area | IT,  Security and Defense |
TEKEVER is celebrating 20 years. How has been this journey?
TEKEVER was founded 20 years ago by computer scientists and researchers in Artificial Intelligence, Machine Learning and Distributed Systems to focus on developing intelligent, highly distributed systems. Bootstrapped from day 1. 10 years ago, the team identified a massive opportunity in the UAS market: drones would become omnipresent, and software and data-driven technologies along with development methodologies would become critical success factors. TEKEVER is now a leading player in this market, and the UAS Business Unit (TEKEVER UAS) represents 75% of total turnover and more than 90% of expected growth. The other existing business lines focus on Digital Transformation services (TEKEVER Digital) and developing Satellite Systems and Technologies (TEKEVER Space).
What has been your connection with The UT Austin Portugal Program?
We're glad to be part of projects that aim to transform science into valuable technologies for businesses and societal matters. We are looking to reinforce the connection with the Program.
Your motto is "deliver your promise". How do you actually help your clients/partners in their businesses?
TEKEVER delivers actionable real-time intelligence to solve very challenging problems in wide areas. Our promise is always to offer the best solution, enabled by the most advanced technologies,  to compete on quality in demanding markets, but packaged in affordable products and services.
TEKEVER UAS
It is a European market leader in Unmanned Aerial Systems (UAS) for Maritime Surveillance with a growing international footprint. Owns entire technology stack for UAS, including all structures, electronics and software, and has cutting edge facilities for volume production. Has developed Managed Services capabilities and has now 40+ UAS operators ready to deploy worldwide. The team is based in Portugal and the UK and counts on 130+ Engineers, Operators and Technicians.
TEKEVER DIGITAL
It offers Digital Transformation services, leveraged by very strong expertise in AI/ML, UX/UI and Mobile Technologies. Strong customer base in Portugal, in Banking, Utilities, Healthcare and Government. The team is comprised of 50+ SW Engineers, Designers and Data Scientists.
TEKEVER SPACE
It sells SDR communication systems to Space Agencies for multi-satellite missions. Currently, developing complete stack for Microsatellite Platform and innovative Synthetic Aperture Radar based on SDR. The team is comprised of 23 highly specialized Electronics Engineers and PhDs.
What can we expect from TEKEVER in short-medium term?
Our global goal is to become a market leader for Maritime UAS in the next 3 to 5 years.