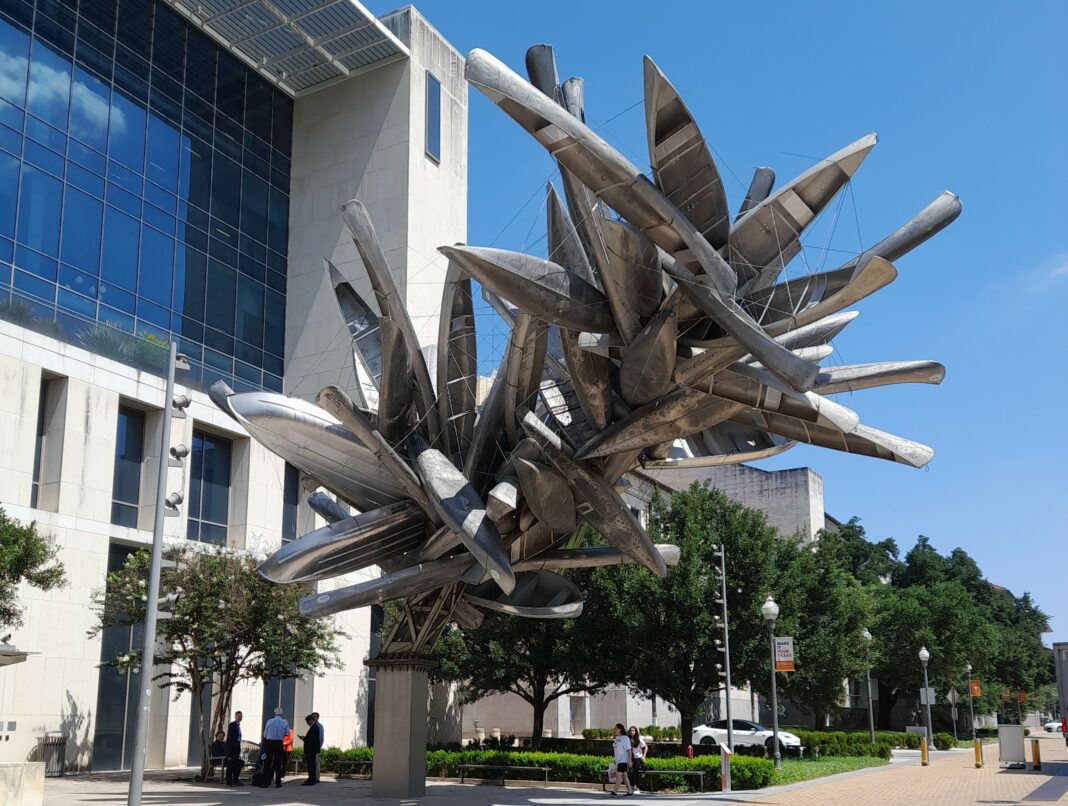 The Portuguese delegation travelled in mid-June to Austin, at the invitation of the UT Austin Portugal Program and the University of Texas at Austin (UT Austin), to take stock of FCT's long-running Partnership and discuss avenues of cooperation as the current funding cycle is coming to an end.
The delegation was composed of Elvira Fortunato, Portuguese Minister of Science, Technology and Higher Education, Francisco Duarte Lopes, Ambassador of Portugal to the United States of America, Madalena Alves, President of the Foundation for Science and Technology (FCT) and António Grilo, President of the National Innovation Agency (ANI). Accompanying were also members of UT Austin Portugal's team in Portugal: Rui Oliveira, National Co-Director, Andreia Passos, Executive Director, and Vera Pinto, Mobility and Reporting Officer.
From June 12 to June 14, with John Ekerdt, the Program's Principal Investigator at the American partner, as the main host, the delegation met with Dan Jaffe and Sonia Feigenbaum, UT Austin's Vice President for Research and Senior Vice Provost for Global Engagement and Chief International Officer, respectively, several UT Austin faculty and staff and got to visit some of the most advanced research infrastructures – such as The Texas Advanced Computing Center or the Texas Material Institute – that place this university among the ten best public universities in the United States.
The visit agenda included conversations with The Texas Innovation Center, the Austin Technology Incubator, the Texas Engineering Executive Education and the Energy Institute, to list a few. The goal was to give the Ministry and its delegation a glimpse of the university's breadth of capabilities and resources, from research to innovation. It attempted to offer too an understanding of UT Austin's potential contribution to help Portugal build talent and competencies to tap into areas strategic to the country as part of a global world: from clean energy to semiconductors.
"The cooperation between Portugal and UT Austin is essential for talent development through educational and mobility activities and funding of both exploratory and industry-driven research projects intended to solve complex challenges which are unlikely to be tackled by a country alone. The Program's impact on the country cannot be ignored, and even though Portugal has come a long way since 2007, this visit to Texas showed us that we still have a lot to learn from and with UT Austin and its ecosystem," said Andreia Passos, UT Austin Portugal Program's Executive Director.
This visit was also an opportunity for the Minister and her delegation to meet with the Principal Investigators of exploratory and industrial research projects supported by the Program in Phase 3 and learn about their interaction with Portuguese research teams and companies and their overall perception of their projects' achievements and potential impact.
UT Austin, which has students from more than 120 countries and 8 Nobel prize laureates (spread through alumni and professors), is recognized for its excellence by some of the most respected university ranking systems. Times Higher Education World Reputation Rankings 2023 puts UT Austin in the 31st place in the global reputation dimension and the U.S. News and World Report Rankings 2023 at no.43 regarding global universities.
It is not known yet if FCT will renew the Partnership with UT Austin after December 2023, and if so, what the terms will be, but what one knows for sure is that what starts at this U.S. university changes the world. Therefore, how and where can Portugal most benefit from working with this long-standing academic and research partner to tackle tomorrow's challenges best?