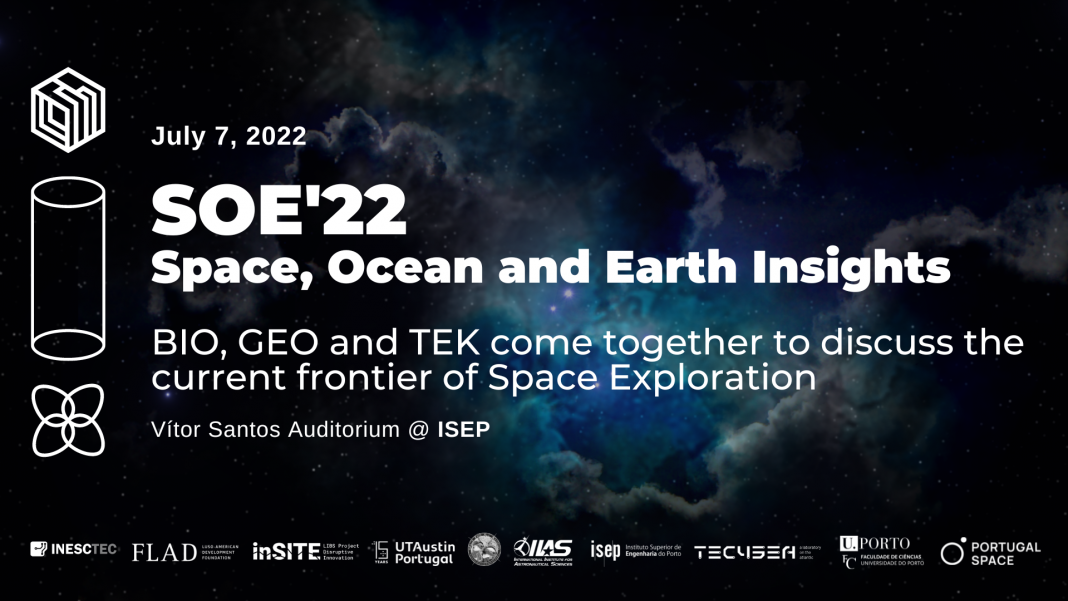 Intro
On July 7, the School of Engineering of the Polytechnic Institute of Porto (ISEP) will be immersed in Space Science thanks to the workshop SOE'22 – Space, Ocean and Earth Insights – BIO, GEO and TEK come together to discuss the current frontier of Space Exploration, a joint collaboration between the UT Austin Portugal Program, INESC TEC, through its Center for Robotics and Autonomous Systems (CRAS), the International Institute for Astronautical Sciences – Space for All Nations (IIAS), ISEP, the Faculty of Sciences of the University of Porto (FCUP) and the Portuguese Space Agency, PT Space.

This half-day workshop, which also counts on the support of the Luso-American Development Foundation (FLAD), will foster a comprehensive discussion about space exploration while highlighting the importance of Portugal-US science and technology cooperation to harness the potential of the space sector. The intersections between biology, geology and technology will be analyzed to cast light on the final frontier of space exploration.
An event spanning several fields of knowledge
A handful of experts – including renowned scientists from the space industry and important stakeholders in Portugal- will come together under the same roof to talk you through state-of-art research across several fields of knowledge feeding into Space Exploration: Space Medicine, Geo-Robotics, Aeronomy, Space-Earth-Sea Interactions, Space Resources, or Remote Sensing, just to list a few.
Who is the target audience?
Undergraduate, MSc and PhD students, researchers, industrial partners, universities, R&D Centers, policy and decision-makers, and the general public, provided that there is an interest in the Space Exploration topic.
What can you expect from this workshop?
The event will provide a chance to:
learn more about the current research in Space Exploration;
identify, discuss, and phrase opportunities for interdisciplinary and international collaboration in education, science and technology development around space exploration;
showcase Portugal's Space Ecosystem to American stakeholders invited onboard, thereby drawing attention to the country's scientific and innovation capabilities in upstream and downstream space activities;
network with renowned national and foreign experts;
It is expected a lot of discussion, networking, and surprises too! At the end of the workshop, you'll get the chance to attend a technical exhibition at INESC TEC's Lab for Robotics and Autonomous Systems (ISEP campus). During the exhibition, the participants will be face-to-face with several researchers and get to understand how the autonomous systems work, as well as several underwater technologies.
Can we count on you?
Check out the tentative agenda below (all hours in mainland Portugal's local time)
Welcome and Opening Session

1:30 p.m. – 2:00 p.m.

Check-in (Auditório Vitor Santos, ISEP, Porto)

2:00 p.m. – 2:10 p.m.

Opening Session

Maria João Viamonte




President of the School of Engineering of the Polytechnic Institute of Porto (ISEP|IPP)

Session I: The Space Ecosystem, Communication and Outreach

2:10 p.m. – 2:20 p.m.
 

Yvette Gonzalez


Head of International Collaborations and Strategic Initiatives, International Institute for Astronautical Sciences (IIAS)

2:20 p.m. – 2:30 p.m.
 
Ricardo Conde
President, Portugal Space (PT Space)

Session II: The Cosmos, the Moon, Mars, and Beyond




2:30 p.m. – 2:50 p.m.
 


Miguel Gonçalves
Host of "A Última Fronteira" RTP magazine about Astronomy & Space Exploration

2:50 p.m. – 3.10 p.m.
 
Slavka Carvalho Andrejkovičová
Principal Investigator at the University of Aveiro and Special Expert Collaborator for SAM team at NASA Goddard Space Flight Center, MD, USA

 
Ricardo Oliveira
Masters finalist in Geological Engineering at University of Aveiro

3:10 p.m. – 3:30 p.m.
 
Rui Moura
Professor at the Faculty of Sciences of the University of Porto and Researcher at INESC TEC's Centre for Robotics and Autonomous Systems
3:30 p.m. – 3:40 p.m.

Q&A




 

Coffee-Break

Session III: Space Medicine, Microgravity Research, and Astronautical Sciences

4:00 p.m. – 4:20 p.m.

 

Jason Reimuller
Executive Director at IIAS

4:20 p.m. – 4:40 p.m.

 

 

Aaron Persad
Research Scientist at MIT and IIAS


4:40 p.m. – 4:50 p.m.

 

 

Andreia Magalhães Oliveira




Medical Doctor and PhD Student at FEUP

4:50 p.m. – 5:00 p.m.
Q&A
 

Session IV: Technological Developments from Deep-Sea, to Earth Observation and Outer Space

5:00 p.m. – 5:20 p.m.

 

 

Lori Magruder
Associate Professor at the UT Austin's Aerospace Engineering and Engineering Mechanics Department


5:20 p.m. – 5:40 p.m.

 

 

Alfredo Martins
Associate Professor at ISEP and Research Coordinator at the INESC TEC's Center for Robotics and Autonomous Systems

 5:40 p.m. – 5:50 p.m.

Q&A
 

Session V: The Current Frontier of Space Exploration


5:50 p.m. – 6:40 p.m.

Round Table and Q&A

Luísa Bastos (Moderator)
Head of the Ocean Dynamics, Coastal and Water Systems group at the Interdisciplinary Centre of Marine and Environmental Research (CIIMAR), Area Director for Space-Earth Interactions, UT Austin Portugal Program 

 

Discussants: Yvette Gonzalez; Ricardo Conde; Aaron Persad and Miguel Gonçalves

Closing Session




 

6:40 p.m. – 6:50 p.m.

Wrap-up and Closing Remarks


 

José Manuel Mendonça
Chairman of the Board of INESC TEC and National Director of the UT Austin Portugal Program


Space Robotics Sunset (Laboratory for Robotics and Autonomous Systems – ISEP)


7:00 p.m. – 7:20 p.m.

Porto D'Honra with a performance by "Grupo de Fados do ISEP"

7:20 p.m.

Technological exhibition at INESC TEC's Laboratory for Robotics and Autonomous Systems (ISEP)
Workshop Chairs:



Yvette Gonzalez

Head of International Collaborations and Strategic Initiatives, IIAS

Ricardo Conde

President, PT Space
Workshop Scientific Coordinators:
Ana Pires – Researcher, INESC TEC's Centre for Robotics and Autonomous Systems (CRAS)
Rui Moura – Researcher, INESC TEC's Centre for Robotics and Autonomous Systems (CRAS)
Pa

ula Lim

a – Industry-Research Liaison Officer (TEC4SEA) & Project Manager at INESC TEC's Centre for Robotics and Autonomous Systems (CRAS)
Other Experts Involved in the Organization of the Workshop:

José Almeida (INESC TEC); Slávka Andrejkovičová Carvalho (University of Aveiro); Andreia Passos (UT Austin Portugal); António Gaspar (INESC TEC)
Supporting Team:



Adriana Costa (UT Austin Portugal); Catarina Carvalho (INESC TEC); Sheila Habib (UT Austin Portugal); Sofia Maciel (UT Austin Portugal); Rita Costa (UT Austin Portugal); Vera Pinto (UT Austin Portugal)