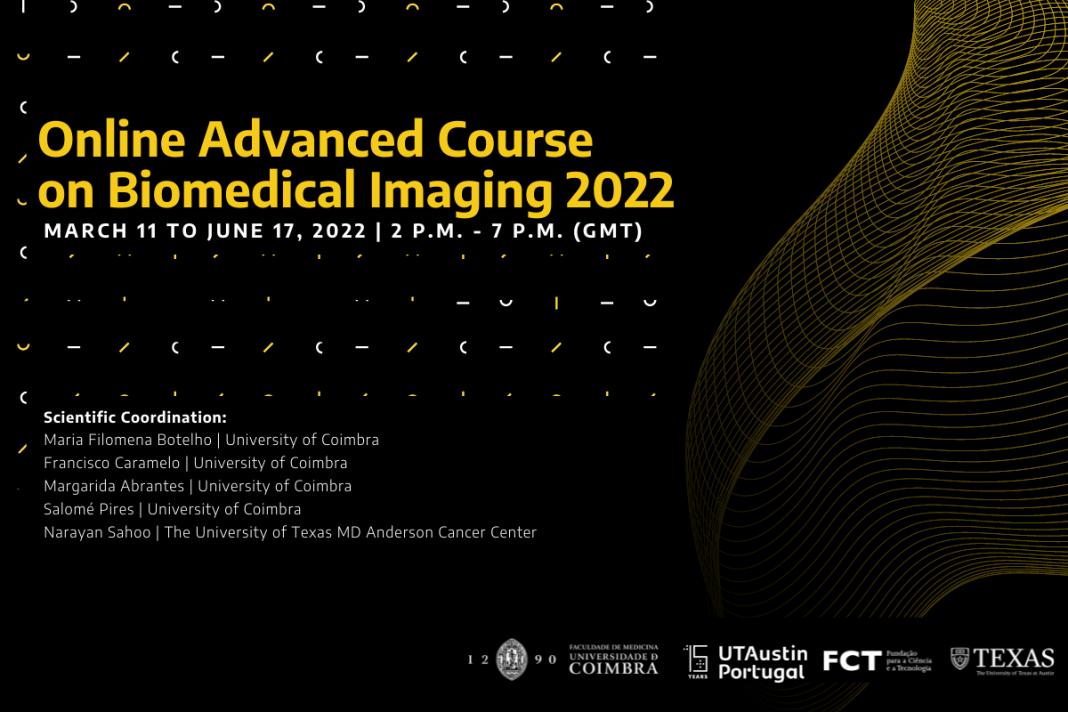 Under the Education strand, the UT Austin Portugal Program has hosted several training events since the start of its third phase back in 2018. However, this year was the first time the Program launched an ECTS-awarding course, the Online Advanced Course on Biomedical Imaging, in partnership with the University of Coimbra.
Along with the Faculty of Medicine of the University of Coimbra, the UT Austin Portugal Program hosted, between March and June, eleven online sessions packed with insightful presentations and discussions about the latest trends in biomedical imaging. With the support of Professor Narayan Sahoo (The University of Texas MD Anderson Cancer Center – MDACC) the Program was tasked with putting together a series of online talks on PET, Proton Therapy and Radiotherapy, delivered by high-calibre experts from MDACC, the German Cancer Research Center (DKFZ) and UT Austin Portugal's projects TOF-PET for Proton Therapy and AT@PT . 
The bulk of the course was yet designed by Maria Filomena Botelho (FMUC), one of the Program's Area Directors for Medical Physics, and Francisco Caramelo, Margarida Abrantes and Salomé Pires, all affiliated with FMUC. The course gave a comprehensive overview of the Physical basis and applications of multiple imaging techniques. Although most techniques addressed were targeted at humans, some examples of tissue and animal imaging techniques were also covered, providing a broad scope of the main imaging methodologies used in biomedicine.
The sessions brought together more than 30 experts from Portugal, Texas and Germany, with more than 100 curious attendees eager to learn more about how to see what our naked eyes cannot. The exchange of ideas to further enrich knowledge and fuel new research ideas was incentivized throughout the whole course. Participants' feedback was very positive, with many wishing to participate in similar initiatives in the future.
To grant the 10 ECTS credits, participants needed to fully attend the sessions and perform an evaluation at the end of the course. The credits were issued by the University of Coimbra.
The recorded sessions are now available on the Program's Youtube Channel.