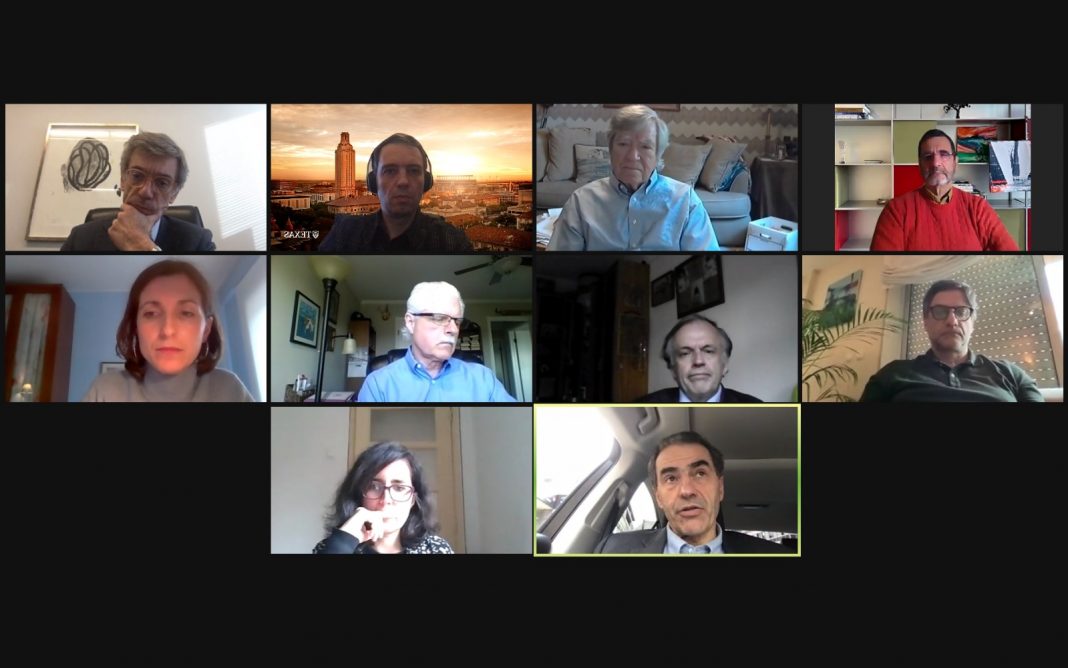 In early February, the Program reviewed the 2020 activities and the work plan for 2021.
The UT Austin Portugal Program organized its 2021 Governing Board Meeting (Phase 3) on February 4th. This time around, following the pandemic-related restrictions, the event was held in a virtual format via Zoom.
Chaired by the Vice-President of the Portuguese Foundation of Science and Technology (FCT), José Paulo Esperança, the Governing Board is additionally composed of Robert A. Peterson, representing the University of Texas at Austin, José Manuel Mendonça, the Program's National Director and representative of the Portuguese Universities, Célia Reis, CEO of Altran Portugal and António Vidigal, CEO of EDP Inovação, both representing the Industrial Advisory Board.
In this year's meeting, the Governing Board welcomed the Portuguese Minister for Science, Technology and Higher Education, Manuel Heitor, and Peter Arzberger, Chair of the Program's External Review Committee, to a discussion on the opportunities lying ahead of the Partnership, in the context of Portugal's Recovery and Resilience Plan and the possible pathways to continue delivering on its mission while learning from past experience.
The session, convoked by the Program's Leadership, with the support of FCT's International Partnerships Office, provided the occasion to look back to the implementation of the 2020 Activity Plan, approved by the Governing Board at the beginning of that year. "It is undeniably true that the plan was affected by the Covid-19 outbreak, but the Program was able to quickly adapt to the new setting and organize and support several initiatives. The Program's remarkable performance amid a pandemic came along with new challenges the Program's Leadership and Executive Team did not hesitate to highlight", stated Andreia Passos, the Program's Executive Director in Portugal.
Keeping in mind such challenges and the Program's ambitions, the 2021 Activity Plan was presented and thoroughly explained to the Members of the Governing Board along with its underpinning budget. In 2021, the Program expects to go on strengthening the nexus between its three lines of action (research-education-innovation), launching and organizing different activities across the knowledge-to-innovation chain, supporting its international consortia on their way to project completion and building up the transatlantic community's loyalty and trust. The Governing Board has conveyed its support to the Program by approving both the 2021 Activity Plan and the budget.