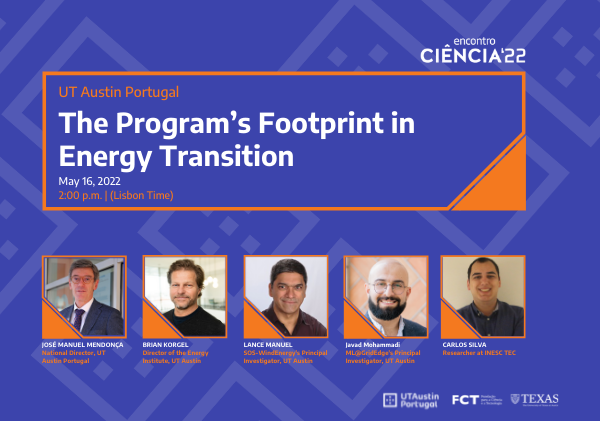 Within the scope of Ciência 2022, the National Science Summit, the UT Austin Portugal Program will hold a 90-minute workshop. The Program's session will take place on May 16, at 2 p.m. (Lisbon time).
Abstract
In the year the Program celebrates its 15th anniversary, the UT Austin Portugal's session at Ciência 2022 takes stock of some of its projects and assets helping pave the way to clean energy transition. 
Although Energy does not constitute a scientific area of the Program, the International Partnership is well-positioned to help speed up the energy transformation that both Portugal and Texas are committed to realizing. After all, it gathers advanced energy expertise, top-notch research infrastructures, scientific leadership and people who interface exceptionally well with both academia and the industry. Additionally, energy transition tops political and business agendas on both sides of the Atlantic. 
The Program's Areas of Nanotechnologies and Advanced Computing, in particular, may take a leading role in setting the stage for Energy to become a core area of this Partnership, whose impact has not been limited to the Austin-Portugal community. To a great extent, the breadth of this impact results from the Program's alignment with critical challenges also tackled by other regions of the world. Energy-related challenges are among those. 
Therefore, the session should also shed light on the synergies Portugal and Texas share with Egypt – Ciência 2022's guest country – regarding their standing in the global energy landscape and potential to become global renewable energy hubs. 
Agenda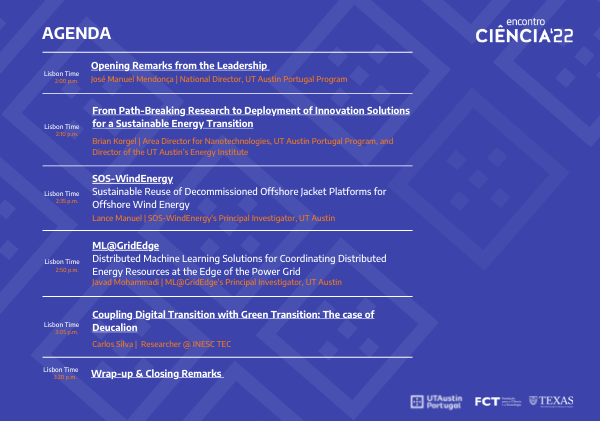 The workshop will be live streamed here, and you may consult our full agenda here.
This year, Ciência 2022 takes place between May 16-18, in a hybrid format, with in-person and online sessions. "Building the Future with Science" (Construir o futuro com a Ciência), is the motto for the presentation of the main research themes that are at the core of the R&D Units in Portugal and that reflect the central themes in world science today. The Nacional Science Summit works as a platform to stimulate interaction and dialogue among participants, and to enhance new interdisciplinary interactions.
(You may opt to attend our workshop online or in-person)
Ciência 2022 is promoted by the Foundation for Science and Technology (FCT) in collaboration with Ciência Viva – National Agency for Scientific and Technological Culture and the Parliamentary Education and Science Commission and has the institutional support of the Government through the Minister of Science, Technology and Higher Education.