In order to facilitate and accelerate the creation of partnering opportunities for the upcoming Call for Exploratory Research Projects, the UT Austin Portugal Program invites Principal Investigators (PIs) at UT Austin and in Portugal to create and submit cooperation profiles to be disseminated through the Program's website.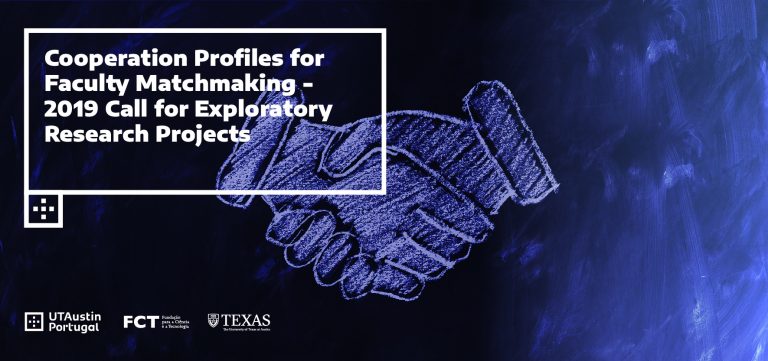 Deadline
Until the end of the call (expected Fall 2019)
Scope of this call
The UT Austin Portugal Program plans to launch in September 2019 a Call for Exploratory Research Projects (ERPs), funded by FCT.
ERPs are short-term, ground-breaking scientific projects, targeting the Program's strategic areas and fostering collaborative research work between non-corporate research organizations in Portugal and The University of Texas at Austin (UT Austin).
The UT Austin Portugal Program highly encourages Principal Investigators (PIs) at UT Austin and at non-corporate R&D institutions in Portugal with strong research interests in the following topics
·  Advanced Computing (High Performance Computing, High Throughput Computing and Quantum Computing);
·  Medical Physics for Emerging Cancer Therapies*;
·  Nano Materials for New Markets;
·  Space-Earth Interactions;
* also open to researchers at the University of Texas MD Anderson Cancer Center
to look in advance for research partners they would like to cooperate with within the scope of ERPs, thus facilitating future submissions of applications and potential funding opportunities.
Submission
Submit your own cooperation profile via email to info@utaustinportugal.org (e-mail subject must be "Cooperation Profile – [Name of Person/Institution] -"
Please use the following template (PDF).
Profiles must include:
a.  The PI's short bio, highlighting his/her research work and interests (max. 150 words);
b. Up to 6 keywords describing the PI's area of expertise;
c. Area (or areas) of the Program the PI's project idea best fits in;
d. Expertise the PI behind the profile is looking for from potential UT Austin or Portuguese partners to build and submit an ERP proposal (max. 100 words);
e. The PI's contact details: First name and last name; affiliation institution; preferred mode of contact (in case you want to have your contact details published online);
f.  Picture (optional).
Publication of profiles
All cooperation profiles meeting these requirements will be published on the UT Austin Portugal Program's website and, thus, accessible to any visitor.
Please note that the better the quality of your profile, the more interest it will generate and eventually, lead to better matchmaking opportunities.
In case you do not wish to make your contact details publicly available online, the UT Austin Portugal Program may operate as a matchmaker and put you in contact with people who have expressed interest in getting in touch with you for the purpose of a potential ERP partnership.
Nevertheless, prior to sharing your contacts with potential partners, the Program's executive team will always e-mail you to confirm whether you are interested in pursuing the contact(s) and, therefore, authorize the team to share your e-mail address.
Removal of profiles from the website
Profiles will be available online until the end of the Call. Profiles' authors have the right to request the Program to change or even delete their profiles at any time during this period.
After the Call ends, the executive team will delete all profiles from the Program's website but will keep and store all received offline cooperation profiles only for reporting purposes.
The Program will also keep track of all matchmaking requests received from individuals with no registered cooperation profiles for the Program's statistics.
Read our Privacy Policy here.
For further information or support, please contact us at info@utaustinportugal.org