Course
Hydrogen – Why the hype? Opportunities, Challenges and Recent Trends
November 15 - 16:00

|

November 17 - 18:00

UTC+0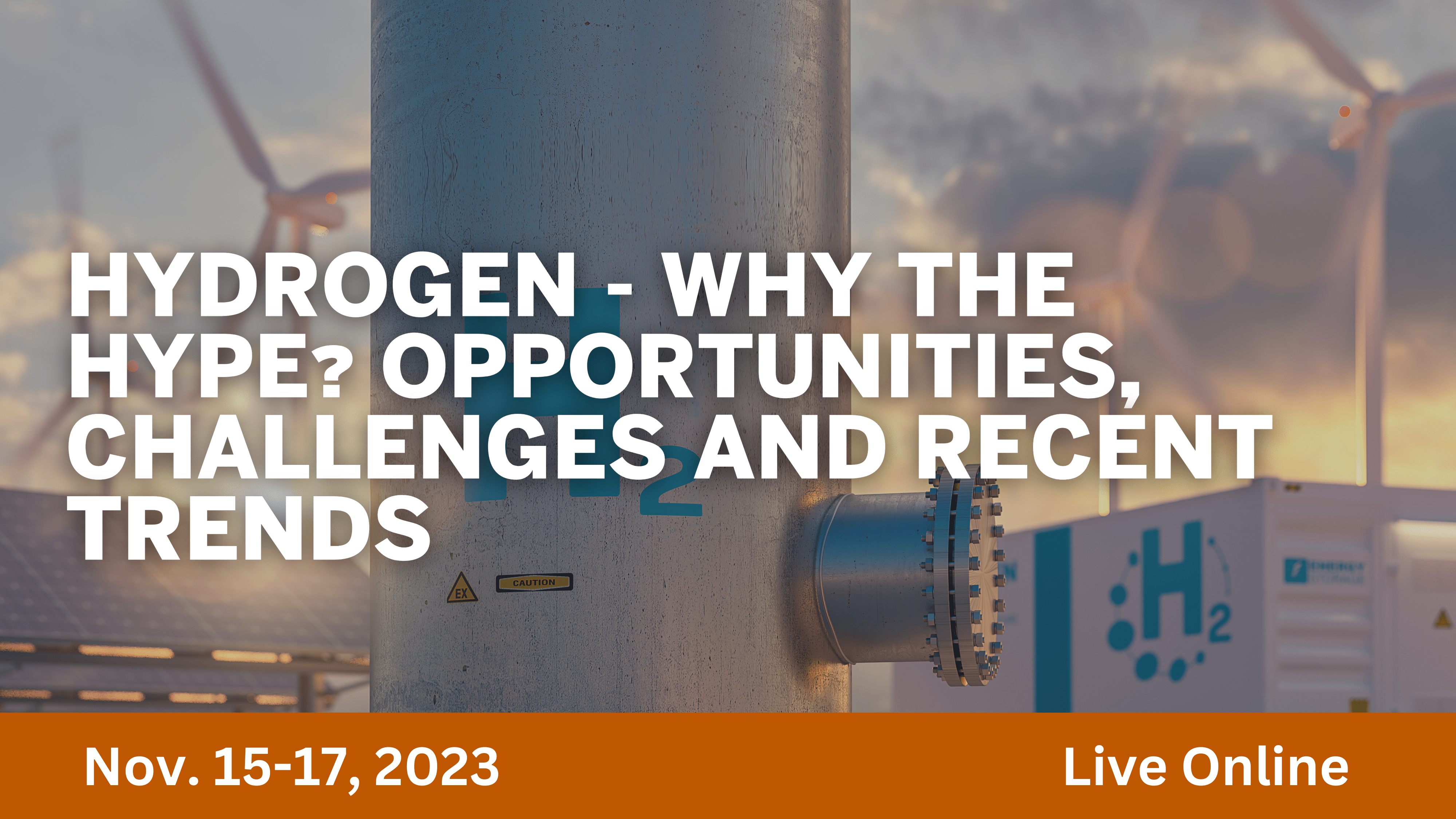 General Information
TxEEE is hosting "Hydrogen – Why the hype? Opportunities, Challenges and Recent Trends" through November 15 to November 17. In this 6-hour course, UT Austin's top-notch experts will provide an overview of hydrogen use as a climate solution, discuss recent policy and commercial developments related to building a global hydrogen economy and review hydrogen technology research needs, challenges and opportunities.
This course aims to provide a technical baseline of understanding to evaluate the media and policy hype around hydrogen. It includes up-to-date technical, economic and policy information for hydrogen across its supply chain and an introduction of publicly available tools for analyzing hydrogen.
For more details on this course, visit the official website (for information purposes only).
Agenda (Download it

here

)

All times in Lisbon Time | Time Zone Converter here 
Wednesday, November 15, 2023 | Part One: Introduction, Overview, and Policy Context for Hydrogen
Time
Lecture
Topic
Primary Instructor
4 p.m. – 5 p.m.
1
Hydrogen's history, current status and potential role in a decarbonized energy future
Dr. Michael Webber
5 p.m. – 6 p.m.
2
Recent hydrogen policy and regulatory developments
Dr. Emily Beagle
Thursday, November 16, 2023 | Part Two: Deeper Dive on Hydrogen Technology Considerations
Time
Lecture
Topic
Primary Instructor
4 p.m. – 5 p.m.
3
Hydrogen production technologies and safety considerations
Mr. Mike Lewis
5 p.m. – 6 p.m.
4
System level considerations for development of hydrogen economy, including hydrogen storage, transportation, and  distribution challenges
Dr. Emily Beagle
Friday, November 17, 2023 | Part Two: Deeper Dive on Hydrogen Technology Considerations
Time
Lecture
Topic
Primary Instructor
4 p.m. – 5 p.m.
3
Introduction to existing tools for hydrogen project analysis
Mr. Michael Lewis
5 p.m. – 6 p.m.
4
Emission abatement potential, risks, and new technology
Dr. Emily Beagle/ Dr.Michael Webber