Scientific Meeting
Space-Earth Interactions
AGU 100 Fall Meeting
December 9, 2019

|

December 13, 2019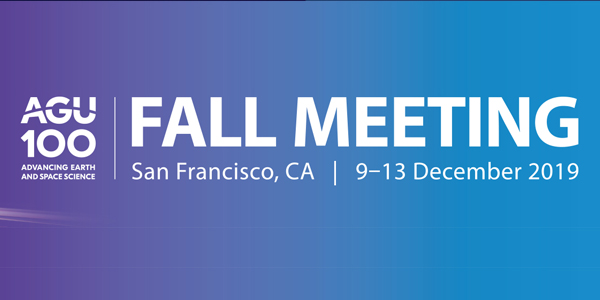 AGU's annual Fall Meeting is the premier gathering of Earth and space scientists and your chance to gain customers, recruit potential employees, and have your brand, product, or service in front of the world's largest convening of Earth and space scientists. This year's meeting during the AGU Centennial year offers unique spaces for attendee interaction and engagement with new technologies.
Join more than 25,000 scientists and decision-makers from more than 100 countries in this bustling marketplace, the ideal platform to showcase your latest products, capture new leads, and give product demonstrations to an audience of proven buyers.
Celebrate the Past, Inspire the Future
As AGU marks its Centennial in 2019, it returns to San Francisco, the home of the AGU Fall Meeting for more than 40 years. Join the diverse community at the newly renovated Moscone Center as it collaborate across borders and boundaries to explore and develop their research. Don't miss this once-in-a-lifetime opportunity to participate in Centennial presentations and special events that will bring to life the past, present and the future of our science.
Today we stand at the intersection of history and our future. Fall Meeting 2019 will prepare you for what's ahead: rapid developments in our science, new approaches to observing our Earth and beyond, the introduction of new data streams, growing demand for accessible science, the expansion of convergent science, and more. AGU will celebrate our past and inspire the future by bringing together the people, the imagination, and the science that will ignite our next hundred years to make our planet safer, cleaner, and more sustainable.
Exhibition
The exhibit hall at Fall Meeting will showcase companies displaying products and services from all facets of the industry:
Academic University/Institution
All Terrain Vehicles/Research Vehicles
Computer Software
Data Management Services
Equipment/Instrumentation
Gems and Minerals
Geophysical Services
Government Agency
Machine Learning and Artificial Intelligence
Mapping
Professional Society/Association
Publishing
Unmanned Vehicles & Robotics
Registration Information
All attendees, including presenters and conveners, must register and wear their badge while attending Fall Meeting functions. The online registration tool will open in late August.
What does Fall Meeting offer?
Keynotes and breakout sessions
A robust scientific program
Communications, policy, educational outreach, and career workshops (more listings coming in the Fall)
Access to events such as the opening Ice-Breaker Reception and the Honors Ceremony, where we pay tribute to this year's awardees, and other free events
Please note: All attendees must create an AGU account to access the Fall Meeting 2019 registration and housing site, which will open in late August. Members of cooperating societies will be prompted for their cooperating membership society credentials during the registration process in order to obtain the member rate. Cooperating societies are listed below the registration rate table.
For more registration information such as rates policies visit here.
Submit an Abstract to the Fall Meeting
Fall Meeting 2019 will bring together people from around the globe and across the Earth and space sciences to celebrate our past discoveries, share our present research, and inspire the future of science and beyond. Together we stand at the intersection of where we have come from and where we are going.
AGU is accepting abstracts until 31 July. Join us at Fall Meeting 2019, present your research, and inspire the future of science and beyond.
For more information on author policie, guidelines, and additional resources visit the official website. 
Visit the official website for all the information on how to plan your meeting, session proposals, FAQS and other helpful resources!