Advanced Computing
Lecture
NetSci | Porto Winter School on Network Science
December 17, 2018

|

December 19, 2018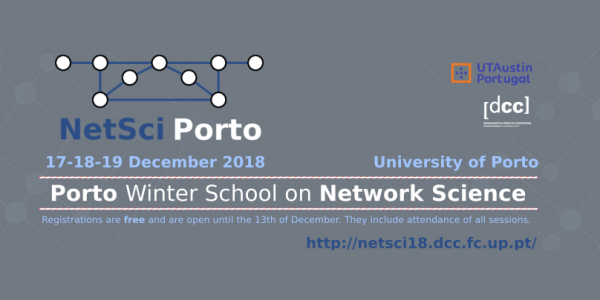 NetSci Porto will take place in the CS Department, at FCUP, University of Porto, from 17th of December until the 19th of December, 2018.
Networks (or graphs) arise as powerful abstract models for characterizing a multitude of real-life biological, social, communication and many other systems, mapping a set of entities and the relationships between them. Networks are virtually everywhere and mining information from them is a crucial task with an inherent multidisciplinary impact.
This school is a research training event geared precisely towards the science of networks and it offers a set of lectures and tutorials given by worldwide leading experts from the academia. The attendees are expected to gain insight into the theory, methods and applications of network science, by being exposed to some the most important problems and their state-of-art solutions, thus improving their vision on the associated research challenges.
The school's main intended target audience are PhD students and young researchers, but we welcome anyone interested in the field. Registrations are free, include attendance of all sessions, and are open until the 13th of December.
Main Speakers:
– Tina Eliassi-Rad (Northeastern University, USA)
– Danai Koutra (University of Michigan, USA)
– Andrew McGregor (University of Massachusetts, USA)
– Lucas Lacasa (Queen Mary University of London, UK)
– Davide Mottin (Aarhus University, Denmark)
– Pedro Ribeiro (University of Porto)
Organizing committee:
Pedro Ribeiro (DCC/FCUP) and Keshav Pingali (UT-Austin)
Organizers:
DCC/FCUP & UT-Austin with sponsoring of COLAB within UT Austin Portugal
For more information visit: http://netsci18.dcc.fc.up.pt