Advanced Computing
Workshop
UT Austin Portugal Applied Visualization Workshop
June 7, 2019 - 14:00

|

June 8, 2019 - 12:30

WEST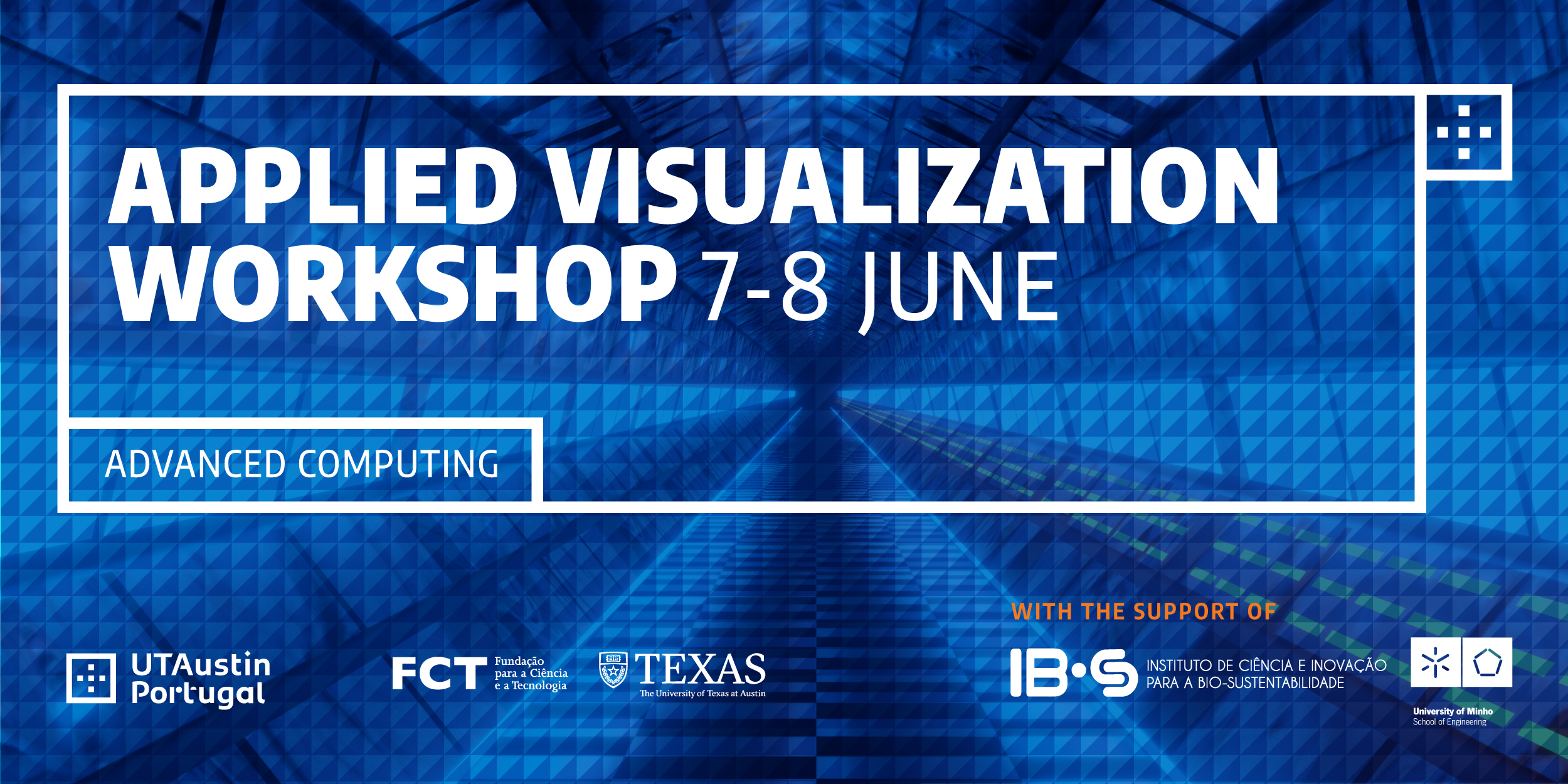 The UT Austin Portugal Program invites you to spend two days in Braga and participate in the Applied Visualization Workshop to get to learn from the experts about some of the latest topics and trends in data visualization.
The major aim of Scientific Visualization (SciViz) and Information Visualization (InfoViz) is to facilitate analysis, discovery and communication of knowledge from large volumes of multidimensional data. This is achieved by generating pictorial representations of the data, which enable domain experts to understand and gather insight into this data.
As the volume of available data keeps increasing, the benefits of visualization become more and more relevant for researchers from the most diverse domains of knowledge.
The goal of this 2-half day workshop is:
i) to raise awareness among Portuguese researchers about the advantages of Sci and Info Visualization;
ii) to demonstrate current techniques and the state of the art for visualizing different kinds of data sets.
VisLab was recently setup at the IB-S building, at the University of Minho, including a 4×3 100M pixels display wall for remote visualization and local rendering, as well as devices for virtual interaction with the data. The workshop will also allow introducing these facilities to researchers as potential users.
The workshop will begin on June 7 (afternoon). The 2nd day will be dedicated to SAGE-2, the software used to manage the above-mentioned display wall.
Please, note that the session on June 7 is independent of the session on June 8. If you wish to register for both sessions, you should indicate it in the registration form.
Target Audience
This workshop targets 2 different audience profiles:
1) On the first day, the workshop will be particularly aimed at researchers from the most diverse fields of knowledge whose work requires handling large volumes of data (either collected or generated by computer simulations). The goal is to demonstrate the advantages of using visualization techniques to develop insight about these huge data volumes;
2) The second and last day, June 8, will be more technical, addressing how to configure, operationalize and maintain large visualization devices. The audience includes visualization researchers and IT engineers willing to maintain such facilities, both for their own use or to make them available to the wider research community.
Program
(Host: Luís Paulo Santos, School of Engineering, University of Minho)
June 7
14h00
Registration
14h30 – 15h30
"Recent Advances in Queuing Ray Tracing for Simulation and In Situ Analysis"
Paul Navrátil, Texas Advanced Computing Centre, The University of Texas at Austin, TX, USA
15h30 – 16h30
"Visualization of Molecular Data – Current Methods and Future Challenges"
Jan ByŠKa, VisGroup, University of Bergen, Bergen, Norway
16h30 – 17h30
"Urban Traffic Visualization"
Carla Silva, Faculty of Sciences, University of Porto, Porto, Portugal
17h30 – 18h00
Coffee Break & Networking
June 8 
08h30
Registration
09h00 – 09h15
Opening Speech: "Advanced Computing Portugal 2030"
Nuno Feixa Rodrigues, Member of FCT's Board of Directors and Coordinating Professor at the School of Technology of the Polytechnic Institute of Cávado and Ave

09h15 – 12h30
"SAGE2 Training Workshop – Immersive Visualization with Scalable Resolution Shared Displays (SRSD)"
Jason Haga, Cyber-physical Cloud Research Group, National Institute of Advanced Industrial Science and Technology, Tokyo, Japan
Registration is now closed.
This event is organized by the UT Austin Portugal Program and the Area of Advanced Computing with the support of IB-S, Institute of Science and Innovation for Bio-Sustainability, and the School of Engineering of the University of Minho.
For additional queries and information, contact us at events@utaustinportugal.org