Digital Media
Media Summer Institute 2018, Porto
June 4, 2018 - 08:00

|

June 29, 2018 - 17:00

UTC+0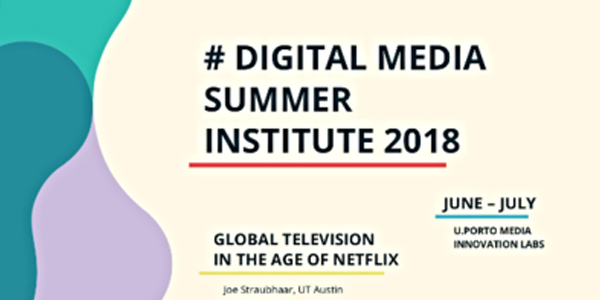 June and July 2018
During the months of June and July, 5 courses are offered at the University of Porto to students, faculty, staff and the general public and include:
Global Television in the Age of Netflix by Joe Staubhaar
This workshop will cover major current dynamics in national, regional and global television, focusing on Europe, US and Latin America. It will look briefly at technology and industry trends and how television genres are developing at different levels.
Animation Studies by Lalitha Gopalan
A workshop exploring the distinctiveness of animation in the age of the moving image. It will look into the route from drawings and optical toys to pixels and codes with no straight story in place about the rise and persistence of animation
Design for Health and Wellness by José Colucci
A five-day workshop focused on developing a project as a fast simulation of the work of a professional design studio. Included is an immersive experience of lectures, hands-on workshops, fieldwork with emphasis on design solutions for Health and Wellness.
Computational Social Media Research Methods by Dhiraj Murthy
This workshop will explore tools for textual and visual social media data analysis using Netlytic and Gephi to produce graphs, tables and figures to be used in an academic context.
Adopting Digital Media for Learning by Hillary Hart
This workshop will focus on how the pedagogical models underlie the successful use of digital media, giving educators guidelines to adapt their courses to integrate these new tools.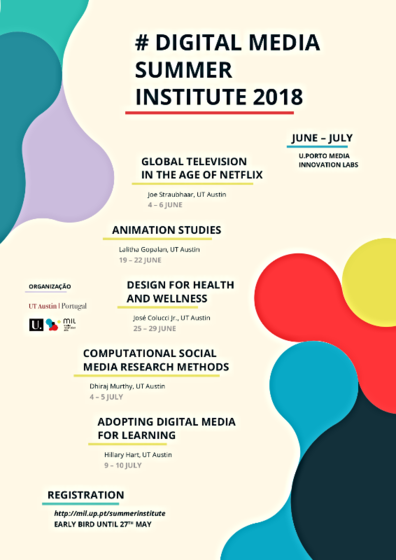 Sponsored by the Fundação para a Ciência e a Tecnologia (Portuguese Foundation for Science and Technology) through the UT Austin Portugal Program.
Registration and more information: http://mil.up.pt/summerinstitute