Digital Media
Summer School
Digital Media Summer Institute 2018, Lisbon
June 4, 2018 - 08:00

|

June 29, 2018 - 17:00

UTC+0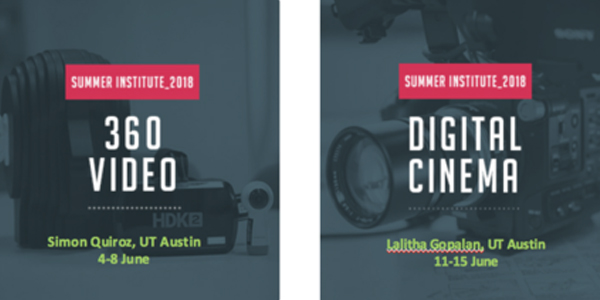 Spanning the month of June, these 4 courses are open to students, alumni, faculty and the general public and includes:
Immersive Media: Visual FX and Graphics in 360° video production taught by Simon Quiroz
This one week course is focused on the post-production stages of 360º and virtual reality video workflow, optimizing the image and removing unwanted artifacts, allowing participants to work on their personal projects.
Art and Aesthetics of Digital Narrative Cinema taught by Lalitha Gopalan
This course lies in the direction of exploring the contours of narrative cinema in the age of digital across the globe.
Introduction to Data Treatment and Visualization in Python taught by Ken Flamm
Aone week hands-on skill training of the Python software ecosystem for data preprocessing and cleaning, analysis and visualization (Numpy, Matplotlib, Pandas, and possibly visualization libraries such as Bokeh).
Cultural Journalism in a Digital and Creative Environment taught by Dora Santos Silva
This one week course explores the new approaches, formats and practices of culture and arts reporting, facing the digital ecosystem, in one hand, and the impact of cultural and creative industries, in the other. The course includes hands-on skill training.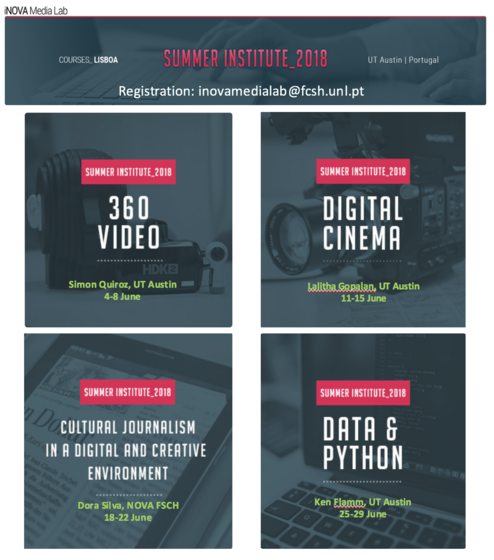 Sponsored by the Fundação para a Ciência e a Tecnologia (Portuguese Foundation for Science and Technology) through the UT Austin Portugal Program.
Registration: inovamedialab@fcsh.unl.pt
More information: http://inovamedialab.org/summerinstitute/