Conference
Space-Earth Interactions
Ocean Obs '19
September 16, 2019

|

September 20, 2019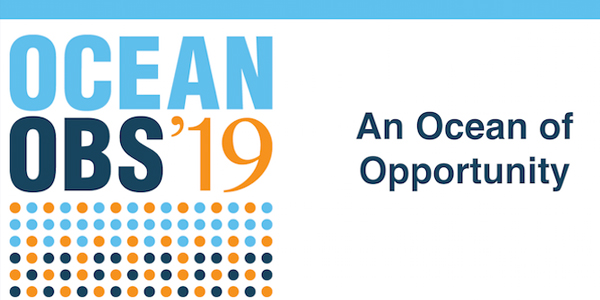 The OceanObs'19 conference is a community-driven conference that brings people from all over the planet together to communicate the decadal progress of ocean observing networks and to chart innovative solutions to society's growing needs for ocean information in the coming decade.
Connecting Science and Society:
As part of the decadal conference series, OceanObs'19 will galvanize the ocean observing community ranging from scientists to end users. OceanObs'19 seeks to improve response to scientific and societal needs of a fit-for-purpose integrated ocean observing system, for better understanding the environment of the Earth, monitoring climate, and informing adaptation strategies as well as the sustainable use of ocean resources.
Objectives:
Overall, OceanObs'19 will strive to improve the governance of a global ocean observing system, including advocacy, funding, and alignment with best practices and to designate responsibility for product definition, including production and timely delivery at the appropriate scales (global, basin, regional, national) to serve user needs. The conference program will be built focusing on a single objective each day to provide adequate time to answer to the proposed questions.
Conference Themes:
This conference will celebrate tremendous progress across regional, national, and global ocean observation networks and strengthen user connections to enhance these systems over the coming decade. Strategic working sessions and network functions during the conference will enable oceanographic researchers, technology operators, data experts, early career scientists, policy-makers, and end-users to chart the future of ocean observing.
Observing System Governance
Data & Information Systems
Observing Technologies & Networks
These societal benefit themes will be examined by their relationship to Ocean Observing and how information products can be best supported through the observing system themes. OceanObs '19 will be focusing on seven vital themes: Discovery, Ecosystem Health & Biodiversity, Climate Variability & Change, Water Food & Energy Security, Pollution & Human Health, Hazards & Maritime Safety, and Blue Economy. The three overarching themes are Data & Information Systems, Ocean System Governance, and Observing Technologies & Networks. The themes will all connect to the conference objectives.
See the preliminary program here.
Registration:
To learn more about costs, logging, transportation and local information, visit this website.
Check additional resources such as FAQs and support documents here.
If you have additional questions, reach out to info@oceanobs19.net.