Institutional
Scientific Meeting
UT Austin and Portugal @ Ciência 2018 – Emerging Challenges of Knowledge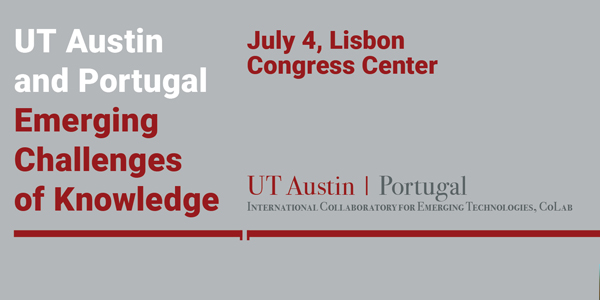 This session aims at presenting and discussing the opportunities and challenges brought by the topics of the third phase of the UT Austin Portugal Program: Advanced Computing, Earth Interactions, Medical Physics, Nanotechnologies, and UTEN, and will have the participation of experts to discuss challenges to be addressed in the medium and long-term in each of these emerging areas of knowledge.
SESSION PROGRAM
Location: Room C
Time: 11:30AM
Welcome words
José Manuel Mendonça, Interim National Director, UT Austin Portugal Program
UT Austin and Portugal – Emerging Challenges of Knowledge
Moderator: Vasco Varela (PETsys)
Advanced Computing: Paulo Mateus (IST)
Nanotechnologies: Cristina Freire (FCUP) and Paulo Freitas (INL)
Medical Physics: José Marques (CTNS)
Earth Interactions: Isabel Trigo (IPMA) and Nuno Rocha (INEGI)
UTEN: João Claro (INESC TEC)
Final discussion
Life streaming demonstration
Emergence Hackathon – How to communicate complex concepts in scientific research
Gustavo Magalhães and Tiago Gama Rocha (Ph. D. Alumnus, Digital Media UT Austin Portugal Program)
Register here to have full access to the Encontro Ciência 2018 event. Entrance is free.