Conference
Masterclass
Nanotechnologies
Masterclass I: Innovation in Biomimetic Materials (Nanotechnologies)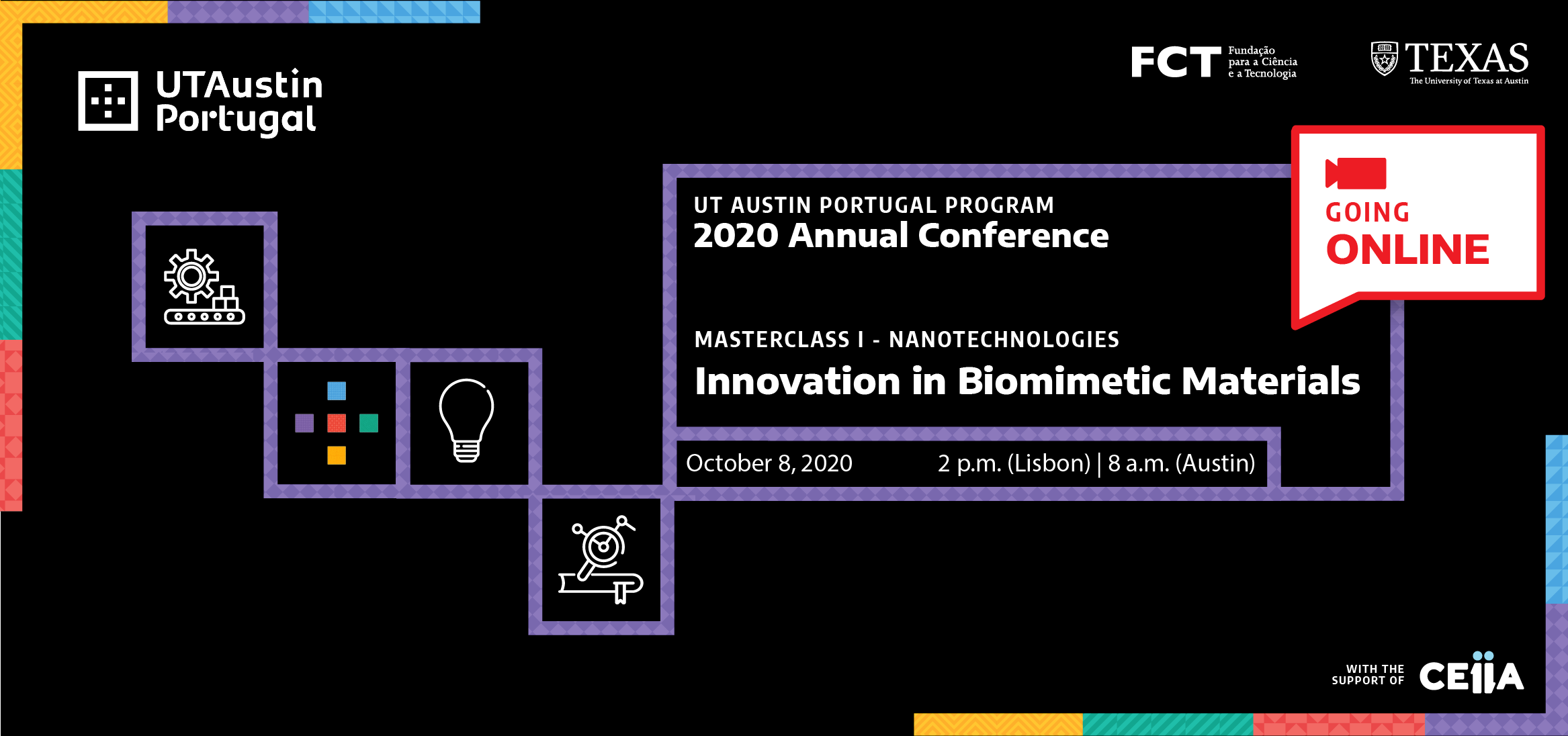 Masterclasses remain a central part of UT Austin Portugal's 2020 Annual Conference agenda. These thematic and highly-specialized sessions feature renowned experts in their fields.
Description of Masterclass I
Biomimetic materials are designed to replicate one or more attributes of a material produced by a living organism. Throughout the millennia, nature has evolved to adapt and develop highly sophisticated methods to solve problems. There are numerous examples of functional surfaces, fibrous structures, structural colours, and highly catalytic, self-cleaning, self-healing and thermal insulation materials, among others, which offer important lessons for the materials of the future.
Some of these solutions may have inspired humans to achieve outstanding outcomes. For example, the strength and stiffness of the hexagonal honeycomb may have led to its adoption for use in lightweight structures in airplane and in many other applications.
Biomimetic research is a rapidly growing field having a huge potential for the development of new and sustainable materials that can only be realized through interdisciplinary research rooted in a holistic understanding of nature.
Registration 
Registration is now closed.
Speakers
Scientific Coordination
Brian Korgel, T. Brockett Hudson Professor of Chemical Engineering at The University of Texas at Austin, USA
Carla Silva, Director of the Department of Chemistry and Biotechnology at the Technological Centre for the Textile and Clothing Industry of Portugal (CITEVE), Portugal
Paulo Ferreira, Professor at IST, University of Lisbon, and Head of Department of Advanced Electron Microscopy, Imaging and Spectroscopy at the International Iberian Nanotechnology Laboratory (INL), Portugal
Program
October 8, 2020
2 p.m. (Lisbon time) | 8 a.m. (Austin time)
Welcome Message by Brian Korgel, Program's Area Director of Nanotechnologies at UT Austin
2.10 p.m. | 8.10 a.m. 
"Controlling Material Properties through Bacterial Extracellular Electron Transfer"
by Keith Keitz + Moderated Q&A
2.50 p.m. | 8.50 p.m.
"Engineering Functional Hydrogels from Biomimetic Polymers"
by Adrianne Rosales + Moderated Q&A
3.30 p.m. | 9.30 a.m.
Short break
3.45 p.m. | 9.45 a.m. 
"Light harvesting in nature as inspiration for photonic nanomaterials" by Martin Lopez-Garcia + Moderated Q&A
4.25 p.m.| 10.25 a.m. 
"Bioinspired tools for the development of materials and devices for biomedicine" by João Mano + Moderated Q&A
5.05 p.m. | 11.05 a.m.
Wrap-up by Paulo Ferreira, Program's Area Director of Nanotechnologies in Portugal
Target Audience
Academia and Industry. The participants are researchers from academia and industry who deal with the development of new products or applications and would like to develop a deeper understanding of biomimetic and biomaterials.
Requirements 
Participants must secure Wi-Fi connection.
Visit the pages below for detailed information on other Masterclasses:
Masterclass II: Platforms for global monitoring – Emerging capabilities and challenges (Space-Earth Interactions)
Masterclass III: Emerging HPC Technologies (Advanced Computing)
Masterclass IV: The Challenges of Proton Therapy in Cancer Treatment – Research and Clinical Perspectives (Medical Physics) 
For additional information, please contact events@utaustinportugal.org.