Conference
Masterclass
Medical Physics
Masterclass IV: The Challenges of Proton Therapy in Cancer Treatment – Research and Clinical Perspectives (Medical Physics)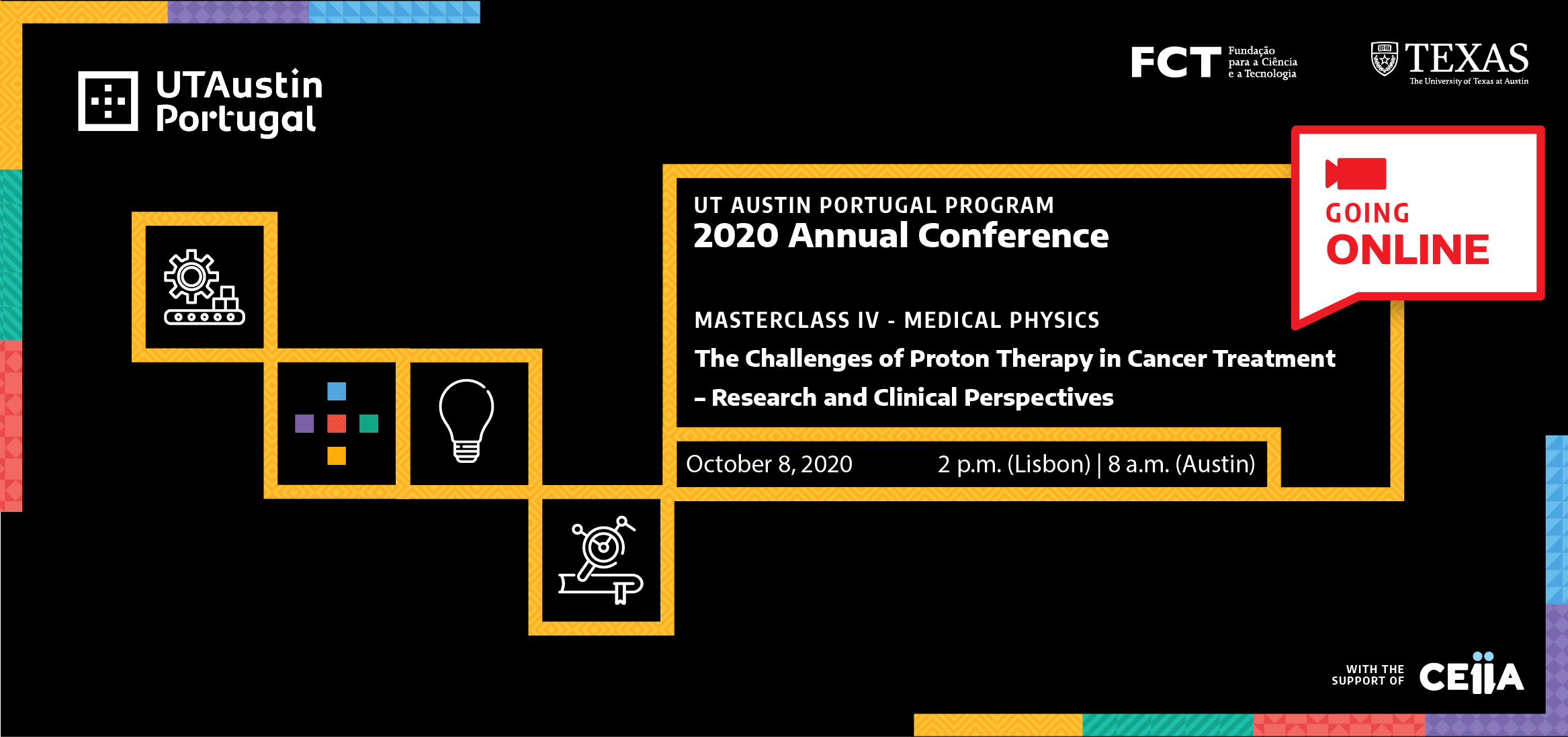 Masterclasses remain a central part of UT Austin Portugal's 2020 Annual Conference agenda. These thematic and highly-specialized sessions feature renowned experts in their fields.
Description of Masterclass IV 
Proton therapy is the most advanced form of radiation treatment that uses protons instead of X-rays, allowing a more tailored, patient-centered approach to cancer treatment. This innovative form of treatment calls for leading experts across all disciplines, from upstream to downstream sectors, working in close collaboration. Bridging the research with the clinical setting is fundamental to translate important research discovery into advanced science-based treatments and clinical care, and to feed the clinical outcomes of proton therapy into further research. However, this translation entails important challenges to be addressed by both sides in order to fully exploit the benefits of this therapy.
The Masterclass brings together a panel of notable speakers from the research and clinical fields in Portugal and in Texas for a comprehensive analysis of the challenges of proton therapy in the era of precision medicine.
Registration
Registration is now closed.

Speakers
Scientific Coordination
João Oliveira, President of the Board of Directors of IPO Lisboa, Portugal
José Marques, Vice-President of Tecnológico e Nuclear Campus at Técnico Lisboa, Portugal
Program
October 8, 2020
2 p.m. (Lisbon time) | 8 a.m. (Austin time)
Welcome Message by José Marques, Program's Area Director of Medical Physics in Portugal
2.10 p.m. | 8.10 a.m "Physics Challenges of Proton Therapy" by João Seco + Moderated Q&A
2.50 p.m. | 8.50 a.m "Medical Challenges and Opportunities of Proton Therapy"
by Radhe Mohan + Moderated Q&A
3.30 p.m. | 9.30 a.m Short Break
3.45 p.m. | 9.45 a.m "Understanding Uncertainties in Proton Therapy"
by Tiago Madaleno + Moderated Q&A
4.25 p.m. | 10.25 a.m  "FLASH Proton Therapy" by Cátia Pedro + Moderated Q&A
5.05 p.m. | 11.05 a.m Session Wrap-up by José Marques, Program's Area Director of Medical Physics in Portugal
Target Audience
Medical professionals, radiotherapy technologists, biomedical engineers, physicists, researchers and students from all involved disciplines, interested in taking part in a wider discussion about the scientific and clinical directions of proton therapy.
Requirements 
Participants must secure Wi-Fi connection.
Visit the pages below for detailed information on other Masterclasses:
Masterclass I: Innovation in Biomimetic Materials (Nanotechnologies) 
Masterclass II: Platforms for global monitoring – Emerging capabilities and challenges (Space-Earth Interactions)
Masterclass III: Emerging HPC Technologies (Advanced Computing)
For additional information, please contact events@utaustinportugal.org.