Advanced Computing
Conference
Masterclass
Masterclass III: Emerging HPC Technologies (Advanced Computing)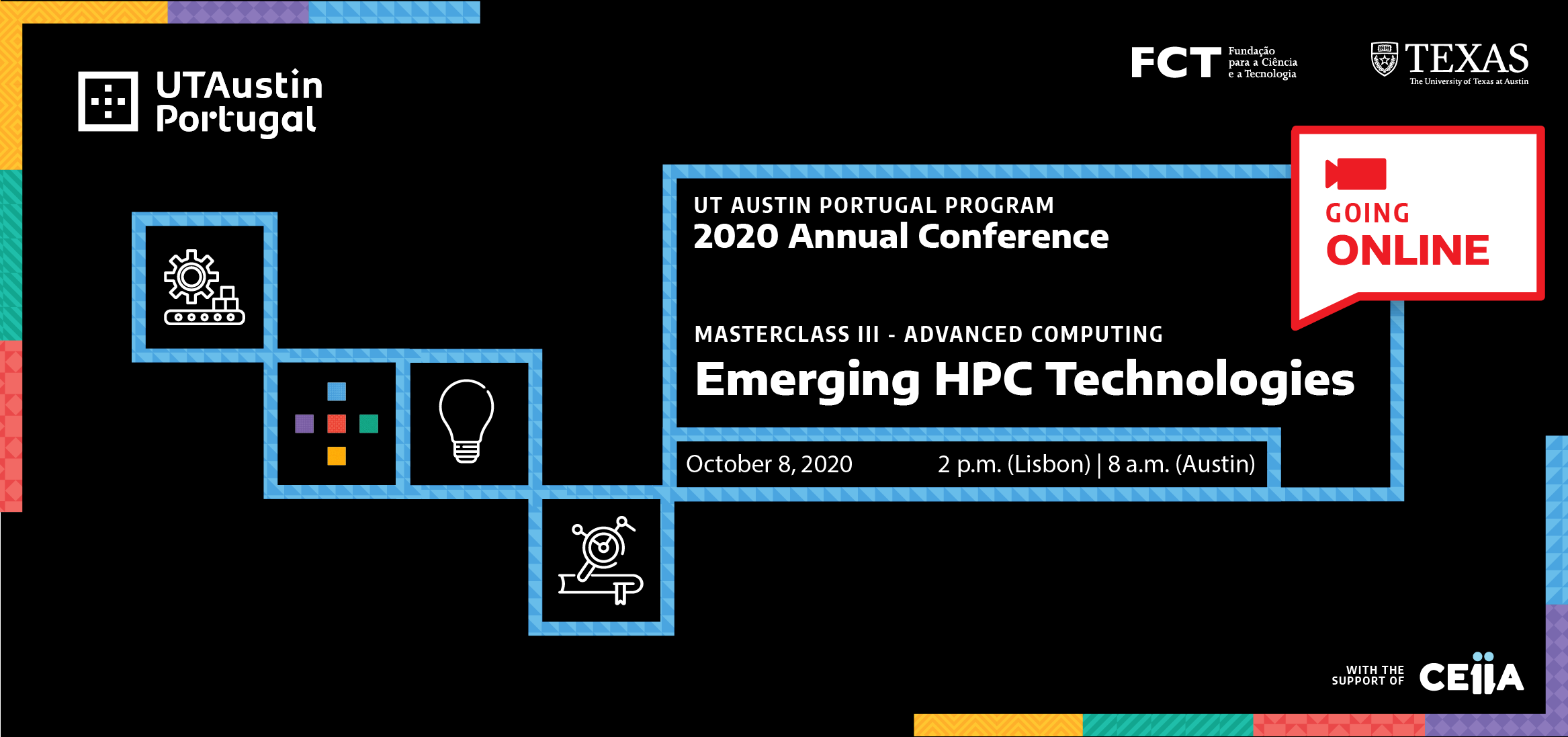 Masterclasses remain a central part of UT Austin Portugal's 2020 Annual Conference agenda. These thematic and highly-specialized sessions feature renowned experts in their fields.
Description of Masterclass III
As pointed out by the European Union, "High-Performance Computing (HPC) is a critical factor for the digitization of industry, its innovation and competitiveness". By enabling sophisticated modelling and simulation, HPC is a must-have asset that allows modern societies to understand the complexity of massive amounts of data generated by multiple sources, thereby creating valuable knowledge.
The application potential of HPC is huge for a wide range of fields from cybersecurity, to climate change and weather prediction, to personalized medicine, space exploration, energy efficiency or even to ICT research itself.
This increase in demand for HPC technologies calls for an ever increasing capacity and efficiency with strong implications on the many emerging and thriving technologies being made available nowadays.
Organised by the Area of Advanced Computing, and counting on world-class experts from ARM and TACC, this Masterclass will address the HPC capabilities and related opportunities in two ways:
• first, by exploring the topic of high-performance large-scale processors and systems in general, and specific on Arm in HPC, supported by examples of relevant academia-industry partnerships and EU-funded projects;
• second, by focusing on the next generation of HPC technologies, applications and systems towards exascale architectures and how they are redesigning scientific research.
Registration
Registration is now closed.
Speakers
Alejandro Rico, Principal Research Engineer at ARM, USA
Dan Stanzione, Associate Vice President for Research and Executive Director at the Texas Advanced Computing Center (TACC), USA
Scientific Coordination
Dan Stanzione, Associate Vice President for Research and Executive Director at TACC, USA
Rui Oliveira, Associate Professor at the Informatics Department of the University of Minho, Member of the Board of Directors at INESC TEC, Director of Minho Advanced Computing Center, Portugal
Moderation
Program
October 8, 2020
2 p.m. (Lisbon time) | 8 a.m. (Austin time)
Welcome Message by Pedro Alberto (University of Coimbra)
2.10 p.m. | 8.10 a.m.
"ARM in HPC: from toy clusters to fastest supercomputer in the world"
by Alejandro Rico + Moderated Q&A
3.40 p.m. | 9.40 a.m.
Short break
3.55 p.m.| 9.55 a.m.
Presentation II by Dan Stanzione + Moderated Q&A
5.25 p.m.| 11.25 a.m.
Wrap-up by Pedro Alberto (University of Coimbra)
Target Audience
Are you interested in exploring the topic of HPC and next generational advanced computing technologies? Then you will not want to miss this session!
Requirements 
Participants must secure Wi-Fi connection.
Visit the pages below for detailed information on other Masterclasses:
Masterclass I: Innovation in Biomimetic Materials (Nanotechnologies) 
Masterclass II: Platforms for global monitoring – Emerging capabilities and challenges (Space-Earth Interactions)
Masterclass IV: The Challenges of Proton Therapy in Cancer Treatment – Research and Clinical Perspectives (Medical Physics) 
For additional information, please contact events@utaustinportugal.org.