Conference
Institutional
UT Austin Portugal 2020 Annual Conference – Innovation at the Intersection of Academia and Industry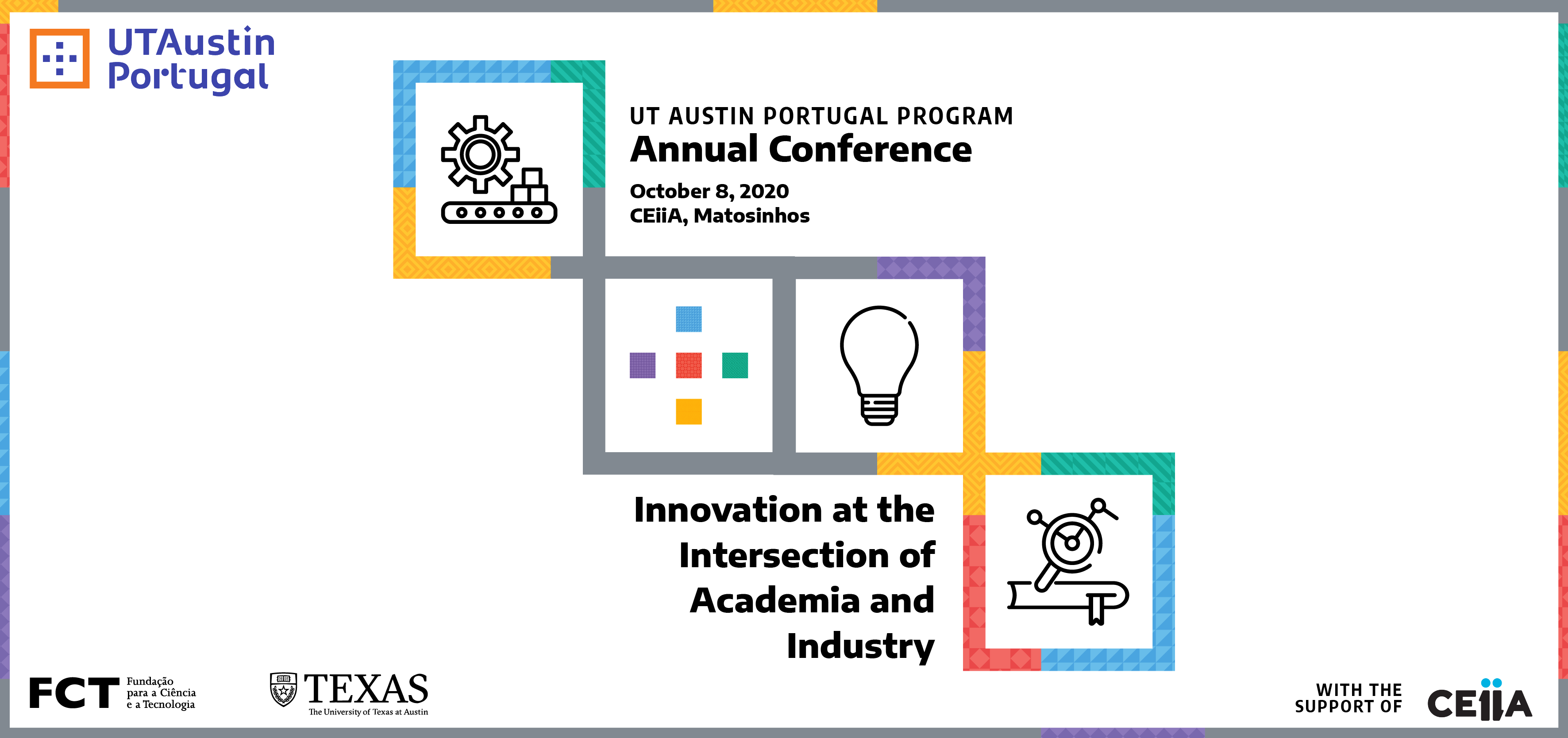 Another impactful Annual Conference of the UT Austin Portugal Program is ahead of us and we are counting on you to be part of it!
The 2020 UT Austin Portugal's Annual Conference, to be held on October 8, will focus on Innovation at the Intersection of Academia and Industry. After all, the international partnership is supporting for the first time ever a batch of highly innovative industry-driven projects led by Portuguese companies in conjunction with non-corporate R&D organizations in Portugal and The University of Texas at Austin (UT Austin).
Making use of different formats and the Program's international dimension, the Conference will bring to the fore how university-industry collaborations across its scientific areas are shaping solutions for some of our societies' most pressing challenges. Key findings and lessons learnt with the view to further improving the relationship between universities and businesses will also be shared.
The event will be held at the Center of Engineering and Product Development (CEiiA), with a wide range of experts in the Program's scientific areas and will offer the right setting for academics and industry professionals to engage with each other and spark off collaboration.
What to expect?
A mix of different sessions to engage a high-profile and diversified audience!
Keynote Speeches
We are bringing to you two unexpected, thought-provoking, top-rated speakers who will captivate you from the very beginning. Stay tuned to find out who our Keynote Speakers are.
Masterclasses
Thematic, highly-specialized masterclasses remain a central part of our Annual Conference agenda. In this edition, we have doubled the number of Masterclasses, covering the full spectrum of the Program's knowledge areas: Advanced Computing, Nanotechnologies, Medical Physics, and Space-Earth Interactions, featuring renowned experts. Framed by the Conference's underlying theme – Innovation at the intersection of academia and industry – Masterclasses will give attendees the chance to find more about the latest research and innovation trends and interact with world-class experts, peers and potential partners.
Poster and networking sessions
Participants will be invited to display their work relevant to the areas of the Program in a Poster Session. During 90 minutes, participants will be encouraged  to network with peers, experts and potential partners and give or receive constructive feedback on planned, ongoing or concluded R&D projects highlighted in a number of posters.
Posters will be displayed for the duration of the Conference, but the Poster Session will take place during lunchtime.
Registration opening soon!
_____________________________________________________________________________
The UT Austin Portugal Program will continue to monitor the developments related to the Covid-19 pandemic, following the guidelines and recommendations of the Portuguese Government, national health authorities and WHO. We are committed to ensure the best possible event to our community, always bearing in mind that the wellbeing of everyone is our first priority.