Advanced Computing
Conference
Institutional
Medical Physics
Nanotechnologies
Space-Earth Interactions
Technology Innovation and Entrepreneurship
UT Austin Portugal 2020 Annual Conference – Innovation at the Intersection of Academia and Industry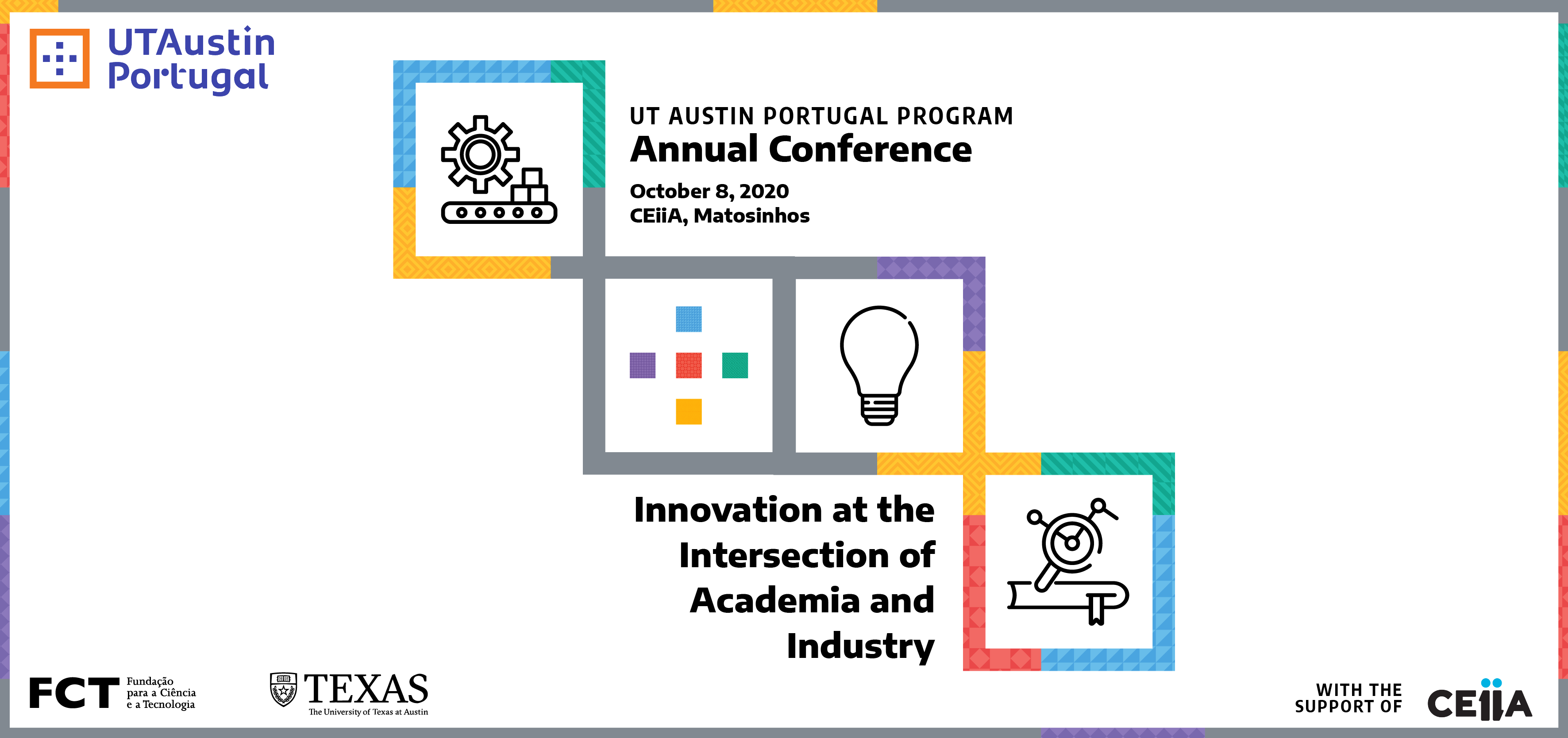 Another impactful Annual Conference of the UT Austin Portugal Program is ahead of us and we are counting on you to be part of it!
The 2020 UT Austin Portugal's Annual Conference will focus on Innovation at the Intersection of Academia and Industry. This year, there couldn't be a better theme to frame the Program's major networking event: the international partnership is supporting for the first time ever a batch of highly innovative industry-driven projects led by Portuguese companies in conjunction with non-corporate R&D organizations in Portugal and The University of Texas at Austin (UT Austin).
Taking advantage of different sessions formats and dynamics, the Conference will bring to the fore how university-industry collaborations across its scientific areas are shaping solutions for some of our societies' most pressing challenges. Key findings and lessons learnt with the view to further improving the relationship between universities and businesses will also be shared.
The event will be held at the Centre of Engineering and Product Development (CEiiA), bringing together a wide range of experts in the Program's scientific areas, thereby offering the right setting for academics and industry professionals to engage with each other and spark off collaboration.
What to expect?
A mix of different sessions to engage a high-profile and diversified audience!
Keynote Speeches
We are bringing to you two top-rated speakers, who will take you on a captivating journey to show you how bold science is shaping disruptive solutions for some of our societies' most pressing challenges.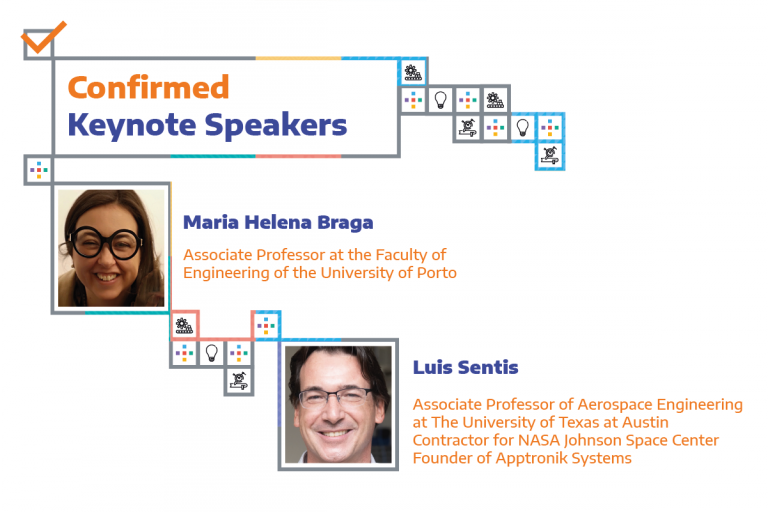 Maria Helena Braga, Associate Professor at the Faculty of Engineering of the University of Porto, is credited with broadening the understanding of batteries and glass electrolyte worldwide and has worked alongside John Goodenough, Professor at UT Austin and Nobel Prize in Chemistry 2019.
Luis Sentis, Associate Professor of Aerospace Engineering at The University of Texas at Austin and Contractor for NASA Johnson Space Center, worked on the Valkyrie humanoid 300-pound R5 robot and was awarded the NASA Elite Team for his contribution. He is also co-founder and scientific advisor of Apptronik Systems Inc., a company focusing on human-centered robotic augmentation systems.
Masterclasses
Thematic and highly-specialized masterclasses remain a central part of our Annual Conference agenda. In this edition, we have doubled the number of Masterclasses, covering the following knowledge areas – Advanced Computing, Nanotechnologies, Medical Physics, and Space-Earth Interactions and featuring renowned experts. Framed by the Conference's underlying theme – Innovation at the Intersection of Academia and Industry – Masterclasses will give attendees the chance to find out more about the latest research and innovation trends and interact with world-class experts, peers and potential partners.
Masterclass I: Innovation in Biomimetic Materials (Nanotechnologies) 
Masterclass II: Platforms for global monitoring – Emerging capabilities and challenges (Space-Earth Interactions)
Masterclass III: Emerging HPC Technologies (Advanced Computing)
Masterclass IV: The Challenges of Proton Therapy in Cancer Treatment – Research and Clinical Perspectives (Medical Physics) 
Please note that for methodological reasons, Masterclasses have very limited seating and you may only attend a single Masterclass as they are taking place simultaneously.
Preliminary Agenda
10:00 am – 10:30 am | Check-in
10:30 am – 11:00 am | Opening Session
11:00 am – 12:00 am | Keynote Speech I: Maria Helena Braga
12:00 am – 1:30 pm | Networking Lunch & Poster Session
1:30 pm – 4:30 pm   | Masterclasses
5:00 pm – 6:00 pm  | Keynote Speech II: Luis Sentis
6:00 pm – 6:30 pm  | Closing Session
Poster and Networking Sessions
Participants will be invited to display their work relevant to the areas of the Program, in a Poster Session. During 90 minutes, participants will be encouraged to network with peers, experts and potential partners and give or receive constructive feedback on planned, ongoing or concluded R&D projects highlighted in a number of posters.
Posters will be displayed for the duration of the Conference, but the Poster Session will take place during lunchtime.
Researchers must submit proposals for posters which shall highlight research results or research in progress in, at least, one of the five scientific areas of the UT Austin Portugal Program: Advanced Computing; Nanotechnologies; Medical Physics; Space-Earth Interactions; Technology Innovation and Entrepreneurship.
Networking and Cooperation Opportunities
This conference will be the right occasion for you to reinforce networking and cooperation opportunities.
The UT Austin Portugal Program has published an online catalogue with networking and cooperation profiles of participants attending this annual event and wishing to find potential partners with complementary expertise among the event's audience.
The catalogue is updated every Friday with new profiles – so keep a close watch on it!
You can see the online catalogue with networking and cooperation profiles below.
If you have any queries please contact the Program on info@utaustinportugal.org
Key Dates
Call for Poster Proposals: June 15 – July 20
Conference Registration: June 15 – September 30
Selection of Posters: July 21 – July 27
Notification of Proposers: July 28 – July 30
Deadline for submission of final version of Poster (.pdf): September 25
Conference: October 8
_____________________________________________________________________________
The UT Austin Portugal Program will continue to monitor the developments related to the Covid-19 pandemic, following the guidelines and recommendations of the Portuguese Government, national health authorities and WHO. We are committed to ensuring the best possible event to our community, always bearing in mind that the wellbeing of everyone is our first priority.