Advanced Computing
Conference
Institutional
Medical Physics
Nanotechnologies
Space-Earth Interactions
Technology Innovation and Entrepreneurship
UT Austin Portugal 2020 Annual Conference – Innovation at the Intersection of Academia and Industry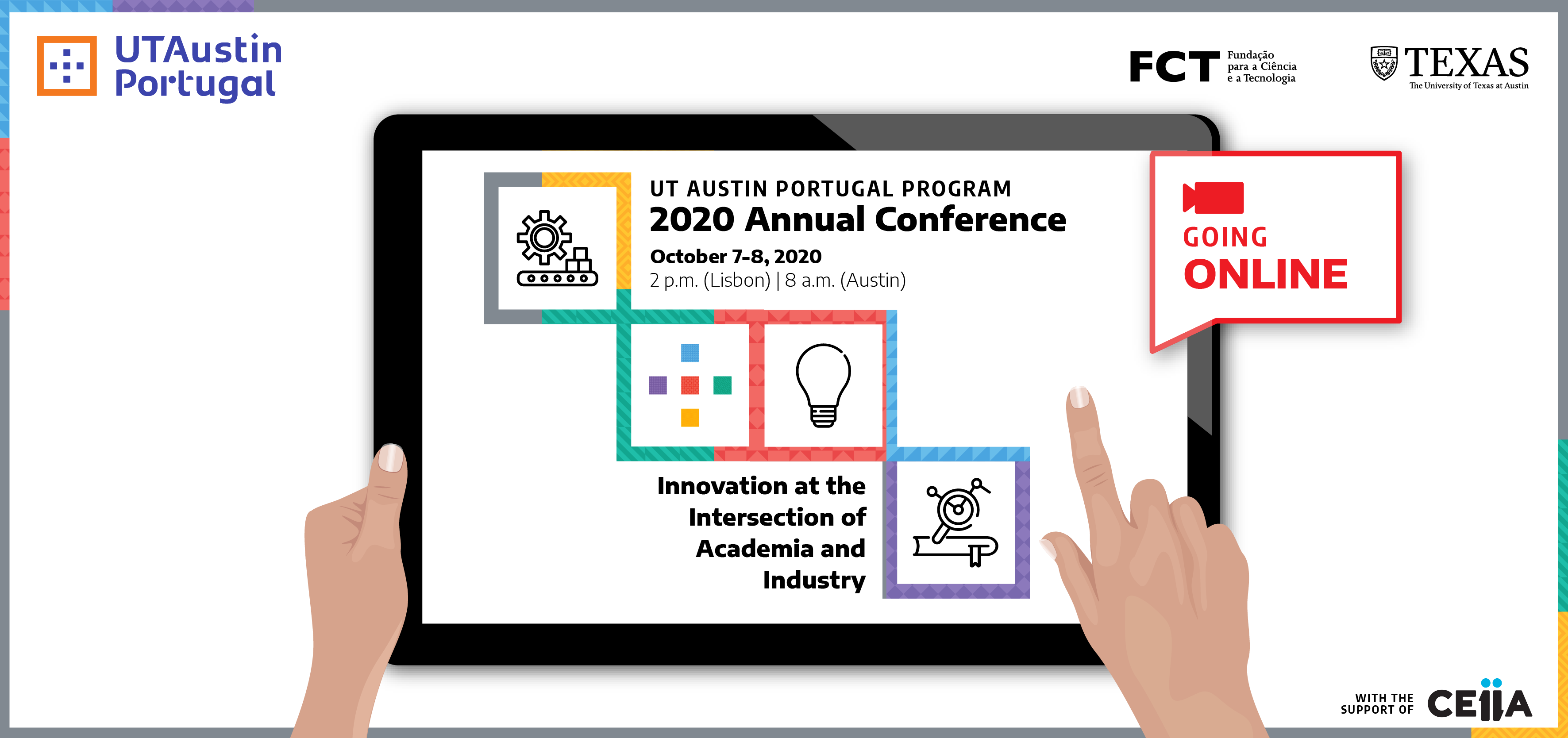 LATEST UPDATE – We are going digital! 
The UT Austin Portugal Program has always looked at challenges as learning opportunities and goods arguments for putting itself to the test.
The pandemic crisis that Portugal, the USA and the world are living has slowed down and, in some cases, even suspended some activities within our transatlantic community that were very much contingent on international mobility. These activities used to be an opportunity for our members to meet under the same roof and discuss ideas, learn from one another and benefit from an intercultural experience abroad, whether short or long.
When we started planning the Annual Conference last year, we were far from imagining that the 2020 edition of the Program's – the largest networking event – could be at risk of not taking place for safety reasons and international travel restrictions.
How could we avoid the disappointment of those who had been regular attendees at our Conferences? And what about those who had been enthusiastically planning and contributing to every detail of this year's event – from our honourable speakers to our committed Area Directors and trusted partners? How could we still reunite to reflect on our journey together, celebrate our community's achievements, welcome new members and discuss the state-of-the-art of highly relevant scientific themes with societal impact?
For a long-standing community that has thrived, even if an ocean apart, we couldn't simply give up and turn our back on the challenges brought by the new international setting. Self-improvement often stems from the ability and willingness to deal with whatever challenge comes our way.
We knew we had to embrace digital and take our Conference online. We owe that to our amazing community. We won't be physically together this time, but we'll count on technology to have you aboard!
October 7 and October 8, 2020
We are bringing to you two top-rated speakers, who will take you on a captivating journey to show you how bold science is shaping disruptive solutions for some of our societies' most pressing challenges.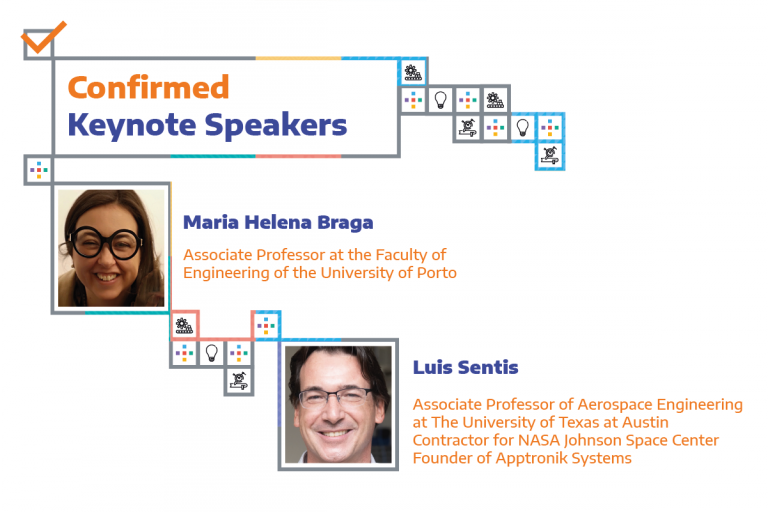 Maria Helena Braga is an Associate Professor and Head of the Engineering Physics Department at Faculty of Engineering of the University of Porto. She has a degree on Solid State Physics and Materials Science and a PhD on Materials and Metallurgy Engineering. From 2008 to 2011, she worked as a Research Scholar and Long-Term Staff Member at Los Alamos National Laboratory, US, where she firstly started working on crystalline solid-state electrolytes. In 2014, she discovered a Li- and Na- based glass-electrolyte that would lead her to work on new energy storage devices and to collaborate with Prof. John B. Goodenough (Nobel Prize in Chemistry 2019) from 2016 to 2019 as a Senior Research Fellow at The University of Texas at Austin. Presently, she collaborates with colleagues across the world and was invited to give more than 30 talks in countries such as Japan, South Korea, Chile, Brazil, Bolivia, US, and Germany, among others. She has more than 55 peered reviewed papers some in high very impact journals, 13 families of patents and more than 130 talks.
Luis Sentis, Associate Professor in the Department of Aerospace Engineering at The University of Texas at Austin and General Dynamics Endowed Faculty Fellow, received his Ph.D. and M.S. degrees in Electrical Engineering from Stanford University where he was also a Postdoctoral Fellow in the Computer Science Department. He was a La Caixa Foundation Fellow while at Stanford. He holds a B.S. degree in Telecommunications and Electronics Engineering from the Polytechnic University of Catalonia. Before Stanford, he worked in Silicon Valley as a Control Systems Engineer. In Austin, he leads the Human Centered Robotics Laboratory, a laboratory focusing on control and experimentation with walking robots and exoskeletons, design of high performance ground systems, and algorithms for active sensing in human environments. He is also a founding member of the UT Robotics Portfolio Program and the UT Robotics Center of Excellence. He was the UT Austin's Lead for DARPA's Robotics Challenge with NASA Johnson Space Center, where he helped to design and test the Valkyrie humanoid robot. His research has been funded by NASA, the Office of Naval Research, Army Futures Command, NSF, DARPA, and private companies. He has been awarded the NASA Elite Team Award for his contributions to NASA's Johnson Space Center Software Robotics and Simulation Division. He is also a founding member and scientific advisor for Apptronik Systems, a company focusing on human-centered robotic products and R&D in human-augmentation exoskeletons and humanoids.
Agenda
October 7, 2020
2 p.m. (Lisbon time) | 8 a.m. (Austin time)
Opening Remarks 
Message from the Host and the Program's Leadership and Sponsor (FCT)
2.20 p.m. | 8.20 a.m.
Keynote Speech I | Maria Helena Braga (FEUP)
"The future of batteries as we know them today: possible entanglements leading to a transformation"
Moderator: Rui Oliveira, National Co-Director of UT Austin Portugal
3 p.m. | 9 a.m.
Moderated discussion with Keynote Speaker Maria Helena Braga
Discussants: Paulo Ferreira (INL and IST) and Andrew Murchison (UT Austin)
3.25 p.m. | 9.25 a.m. 
Short break
3.40 p.m. | 9.40 a.m. 
Keynote Speech II | Luis Sentis (UT Austin)
"Invention and commercialization of human-centered robots through academic-industry collaborations with NASA"
Moderator: Rui Oliveira, National Co-Director of UT Austin Portugal

4.20 p.m. | 10.20 a.m.
Moderated discussion with Keynote Speaker Luis Sentis
Discussants: Pedro Camanho (FEUP, LAETA and INEGI) and discussant tbc
4.45 p.m. | 10.45 a.m.
Innovation at the Intersection of Academia and Industry:
UT Austin Portugal's elite of industry-driven research projects
4.50 p.m. | 10.50 a.m. 
Closing Remarks
Message from Minister of Science, Technology and Higher Education
October 8, 2020
2 p.m. (Lisbon time) | 8 a.m. (Austin time)
Thematic Masterclasses
Masterclasses
Thematic and highly-specialized masterclasses remain a central part of our Annual Conference agenda. In this edition, we have doubled the number of Masterclasses, covering the following knowledge areas – Advanced Computing, Nanotechnologies, Medical Physics, and Space-Earth Interactions and featuring renowned experts. Framed by the Conference's underlying theme – Innovation at the Intersection of Academia and Industry – Masterclasses will give participants the chance to find out more about the latest research and innovation trends and interact with world-class experts, peers and potential partners.

Masterclass I: Innovation in Biomimetic Materials (Nanotechnologies) 
Masterclass II: Platforms for global monitoring – Emerging capabilities and challenges (Space-Earth Interactions)
Masterclass III: Emerging HPC Technologies (Advanced Computing)
Masterclass IV: The Challenges of Proton Therapy in Cancer Treatment – Research and Clinical Perspectives (Medical Physics) 
Poster and Networking Sessions
More information coming soon.
Networking and Cooperation Opportunities
We wanted this Conference to also serve as an opportunity to reinforce networking and cooperation opportunities among our participants, if social distancing restrictions permitted. Although we are no longer organizing this networking session as we are shifting to a digital platform, we are still committed to bringing our community at UT Austin and Portugal closer together. Therefore, we will go on updating our current catalogue with cooperation profiles of participants attending this annual event and wishing to find potential partners with complementary expertise among the event's audience. We will be recommending possible matches for participants with registered profiles regularly.
You can see the online catalogue with networking and cooperation profiles below.
If you have any queries please contact the Program on info@utaustinportugal.org
Registration
Registration in this online event is free but limited to the number of seats available per online session. Make sure you register well in advance!
If you have any questions about this event, email us at events@utaustinportugal.org 
Related Events